The tactical powerhouse that needs no introduction, the MUDMASTER range has been a firm favourite of adventurers, military operatives and G-SHOCK fans since its first release in 2015. Boasting its most advanced update yet, the new B1000 brings a completely re designed case structure, material development and new tools to assist on your mission, providing brains behind the brawn.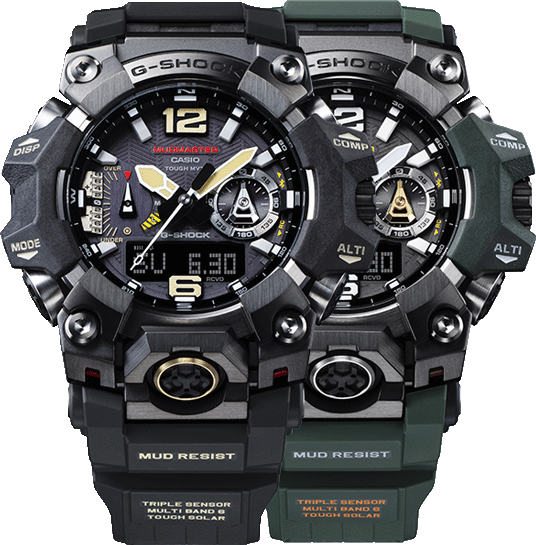 COMING SOON: SIGN-UP TO BE THE FIRST TO KNOW
Sign-up to receive an exclusive early access email when the watch is available to buy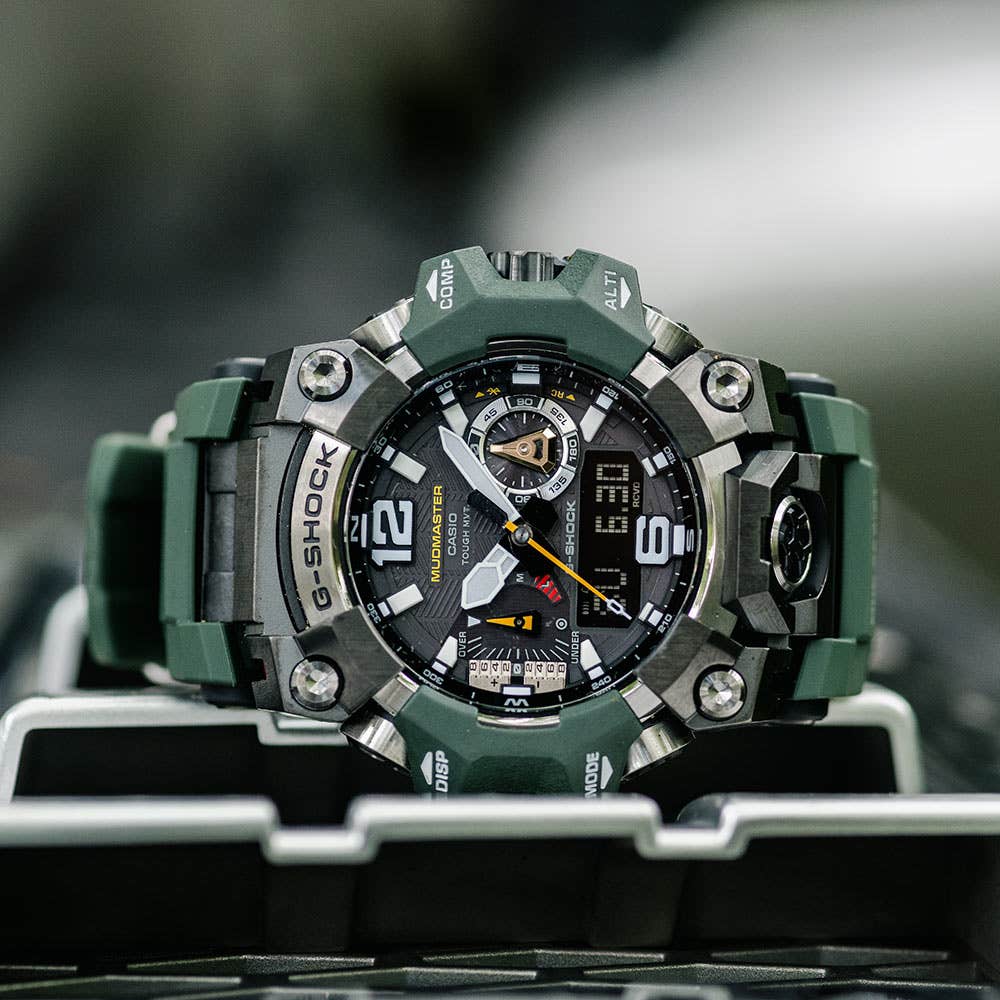 MISSION READY
Representing the premium line of MASTER OF G the new B1000 evokes a high grade finish with a new steel bezel, diamond carbon shock absorbers and bio-based carbon fibre guard structure. The GWG-B1000 is now issued with Bluetooth built in as standard together with Mission Log & Location Indicator modes. Essential when exploring new areas the watch works in unison with the CASIO WATCHES APP to mark points of interest, log important waypoints and help navigate to destinations using the built in Compass & Altimeter. Bluetooth also offer automatic time updates worldwide as you travel and a handy phone finder.
ADVENTURE PROOF
As the name suggests the MUDMASTERs renowend enviroment resistance is back and stronger than ever. Regardless of the terrain or materails the watch is exposed to it will continue to operate and function. A patented gasket system, 200m water resistance and ultra-reliable solar power ensure your MUDMASTER can go where you go. A built in Barometer monitors incoming weather fronts and alerts of sudden drops in pressure to get cover before storms. Thermometer & sun rise/set modes work alongside the watches triple sensor to keep you up to date on your surroundings.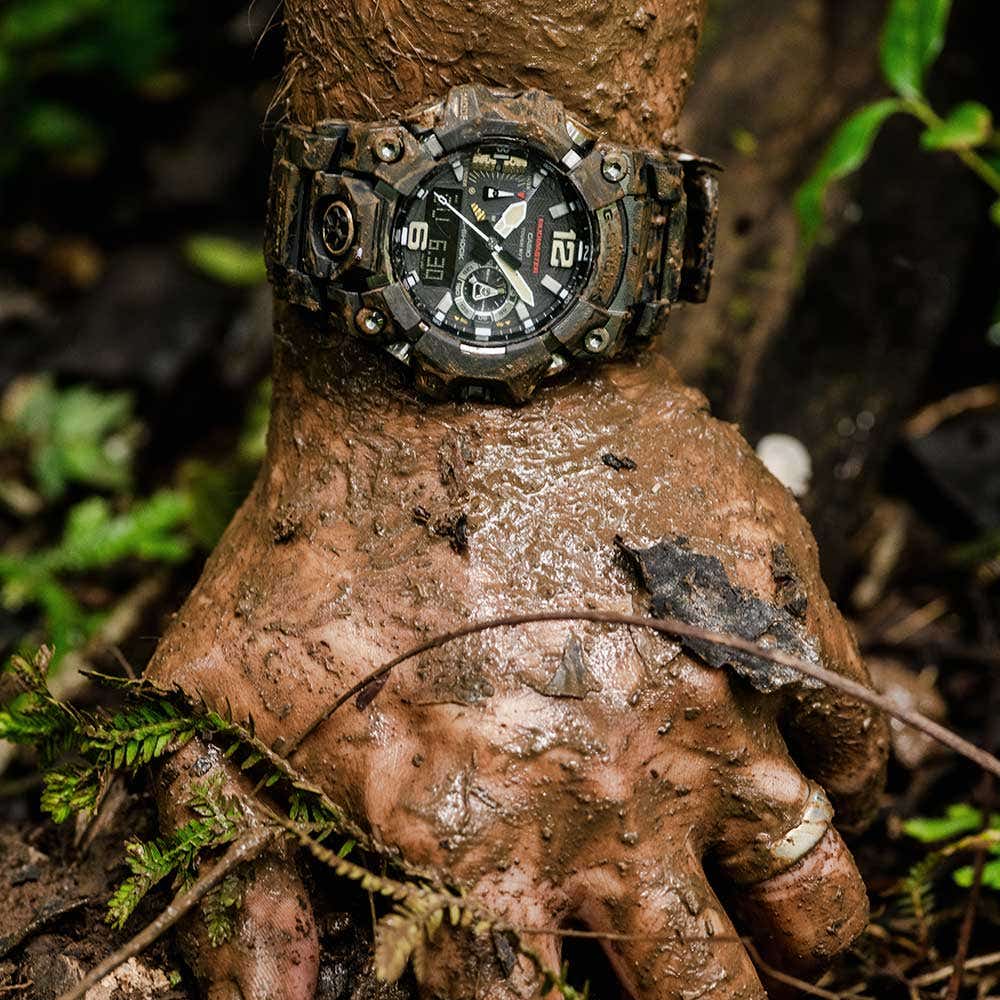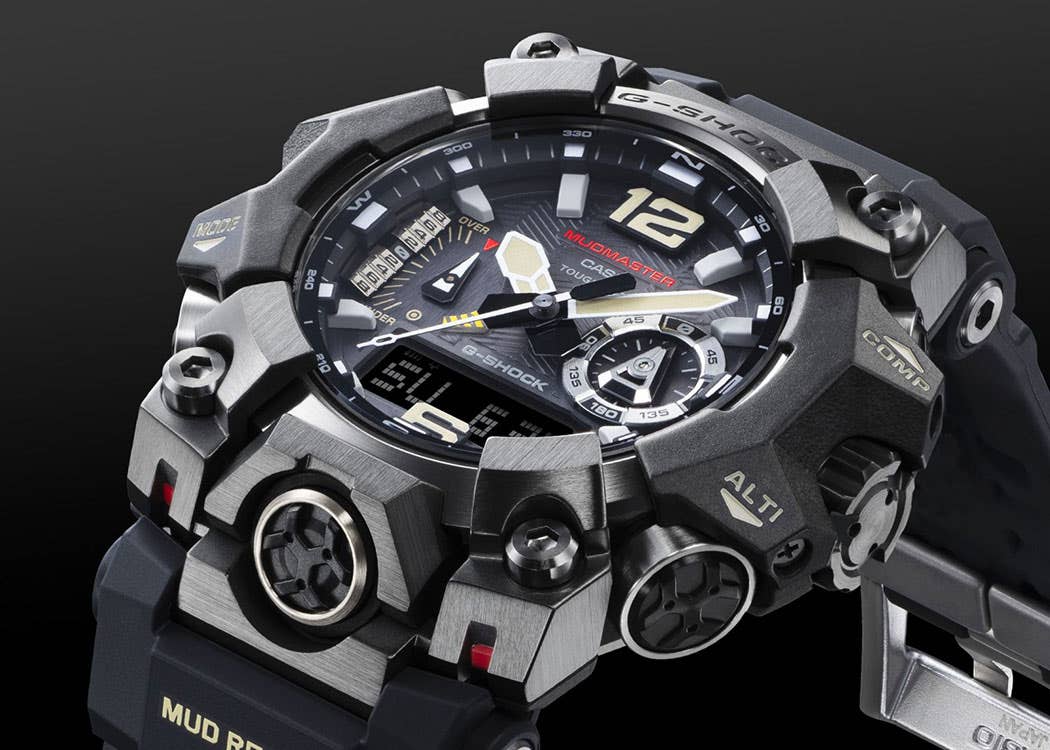 TOUGH PROFESSIONAL DESIGN
Well known for it's tank-like design, the new GWG-B1000 has had a full overhaul with a diamond carbon finihsed multi-component structure. With it's the large-diameter dial, and oversized buttons, the MUDMASTER delivers durability, operability, and readability.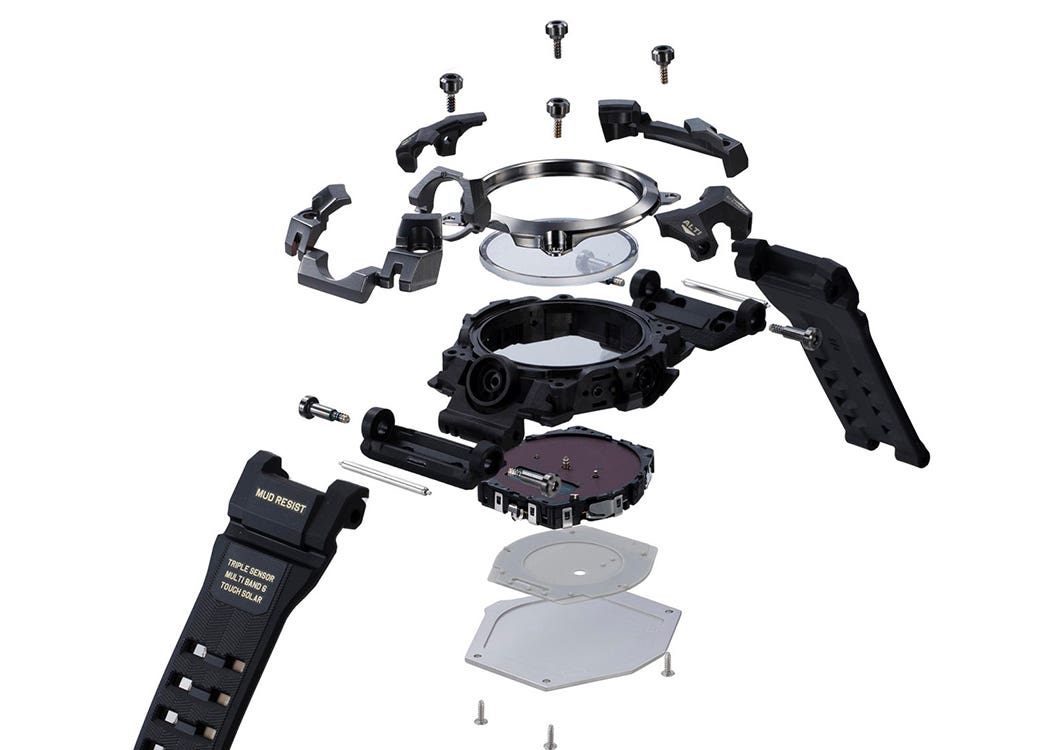 INTEGRATED GUARD STRUCTURE
The MUDMASTER employs a newly developed guard structure that combines components made with steel, carbon fibre-reinforced resin together with a forged bezel. A diamond-like carbon (DLC) coating is applied to the shock absorbers to provide even greater abrasion resistance.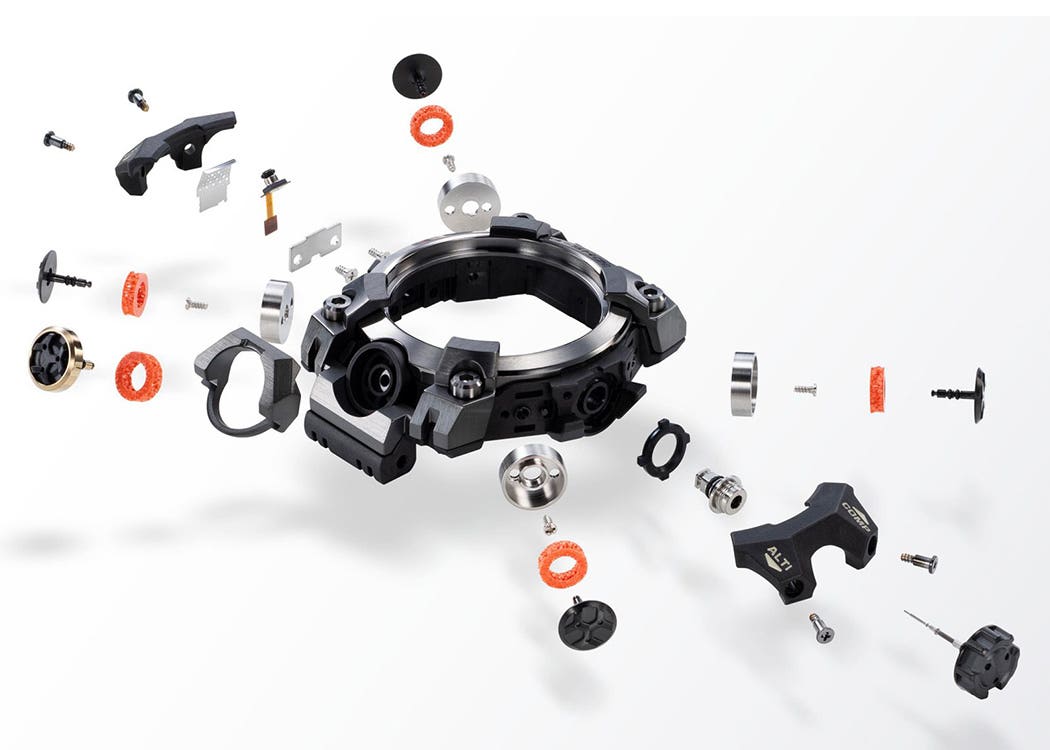 MUD RESISTANT
Designed to be used in all conditions with or without gloves, all the new MUDMASTERS's buttons and three direct sensor buttons are protected by cylindrical stainless-steel shock absorbers, large, easy-to-operate and designed to keep mud and water out.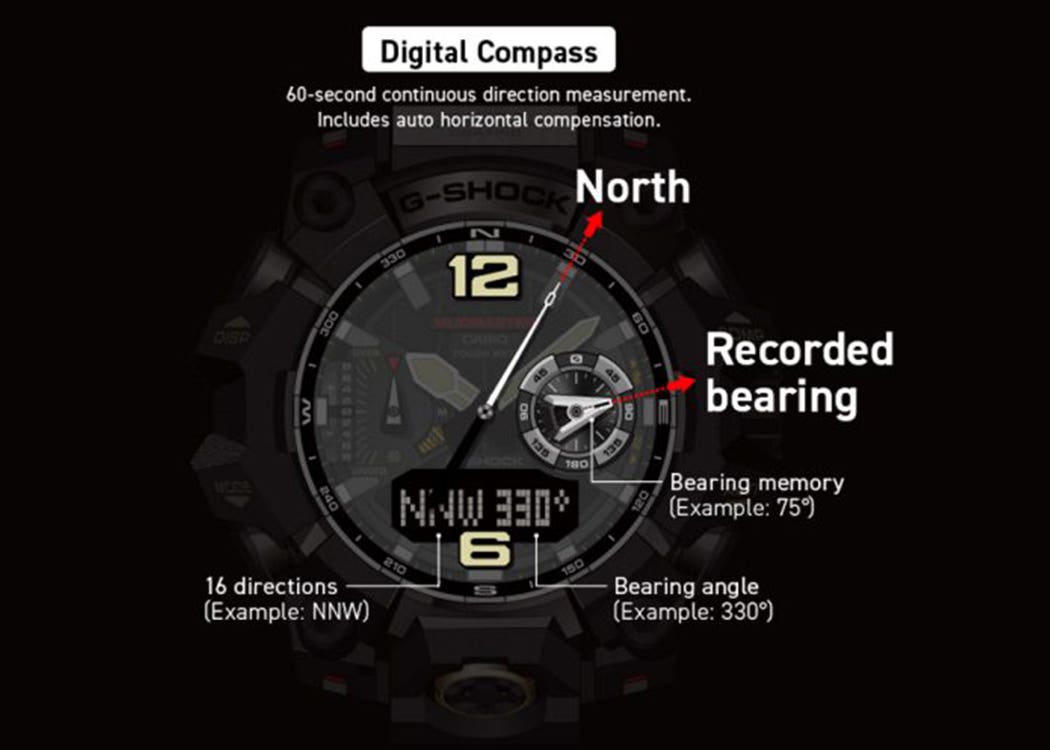 TRIPLE SENSOR
A built in Compass for direction nav, Altimeter for height above sea level and a Barometer to monitor incoming weather fronts come as standard together with Sun Rise/Set times, Thermometer and Multi-Band 6 Atomic timekeeping.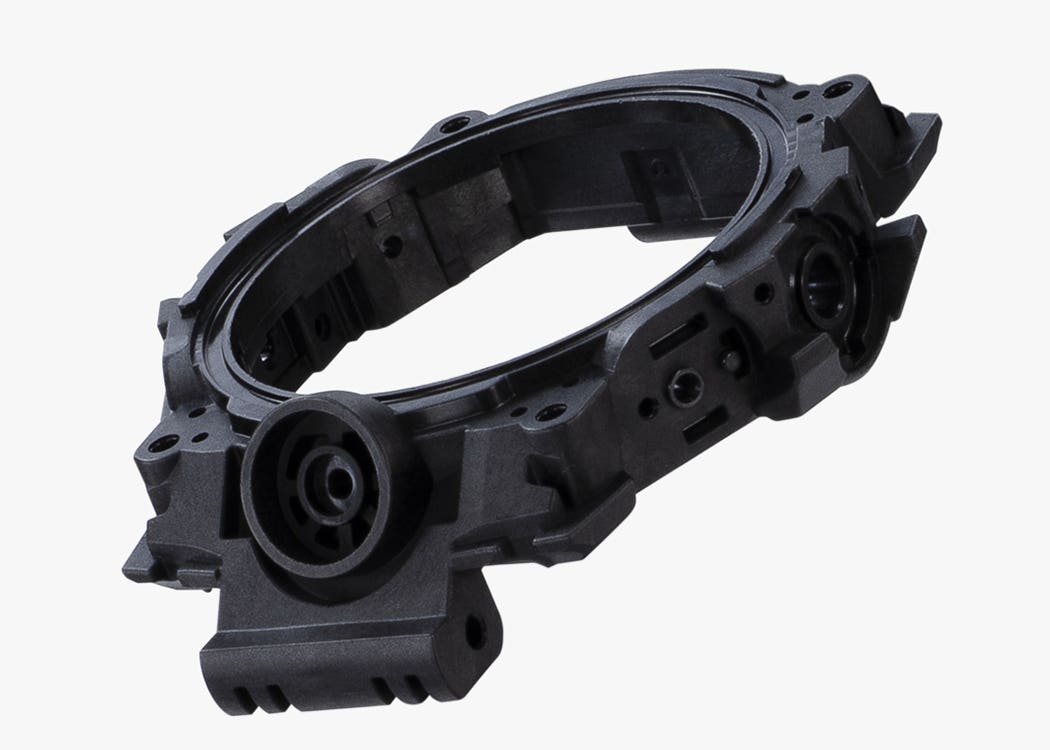 CARBON CORE GUARD STRUCTURE
A carbon fibre-reinforced case protects the module, making the most of the high degree of strength and outstanding durability delivered by the carbon material to achieve a size ensuring a comfortable fit.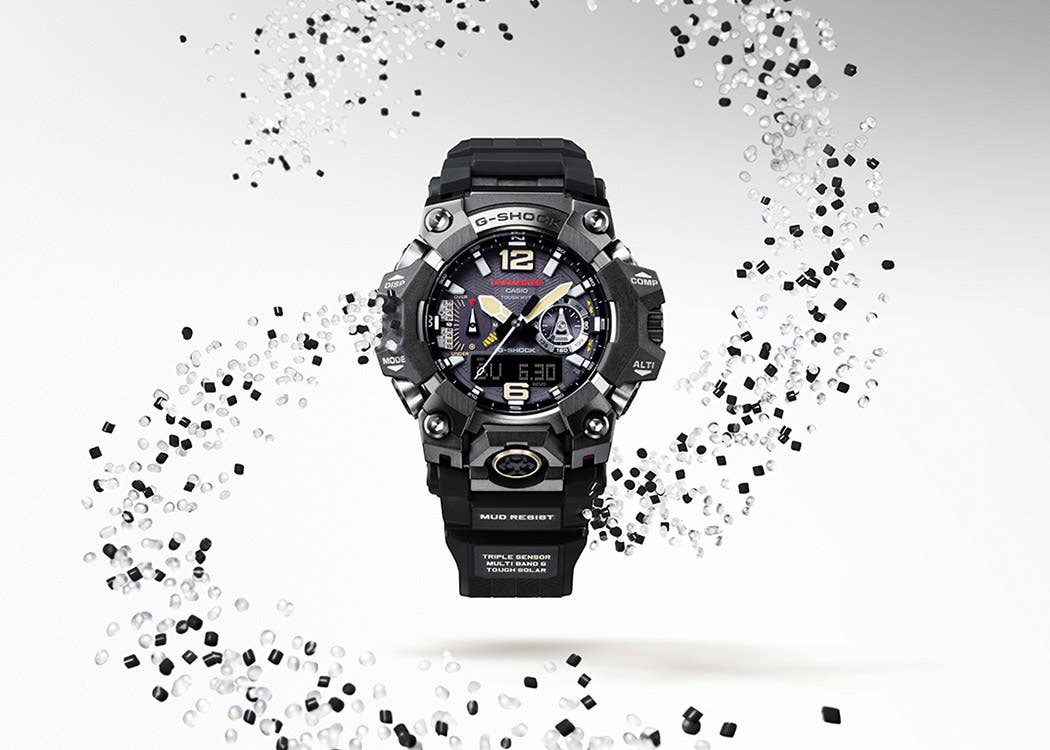 BIO-BASED RESIN
Key resin components of the bezel, case, and band are made with bio-based resin. Produced using renewable organic resources, the material helps reduce environmental impact. *Graphic is included for illustrative purposes.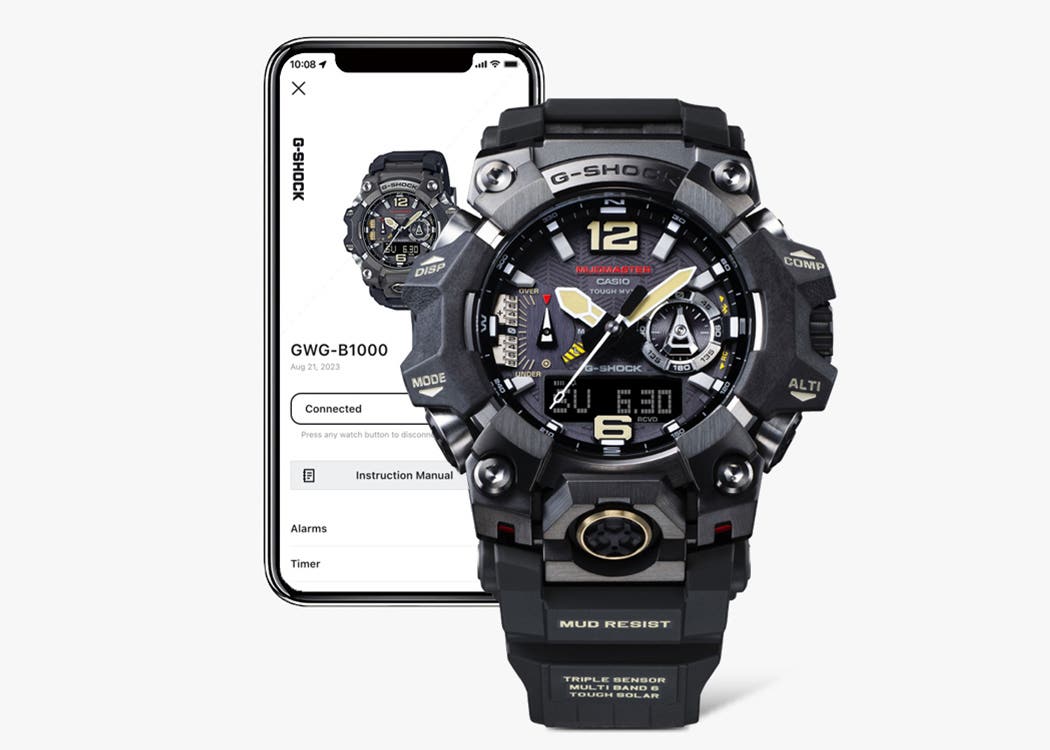 BLUETOOTH CASIO WATCHES APP
Automatic time adjustment (four times a day)
World time (300 cities)
Mission Log
Location Indicator (Watch displays the direction and distance to a location recorded using Location Memory or manually set on the map within the app.)
Phone finder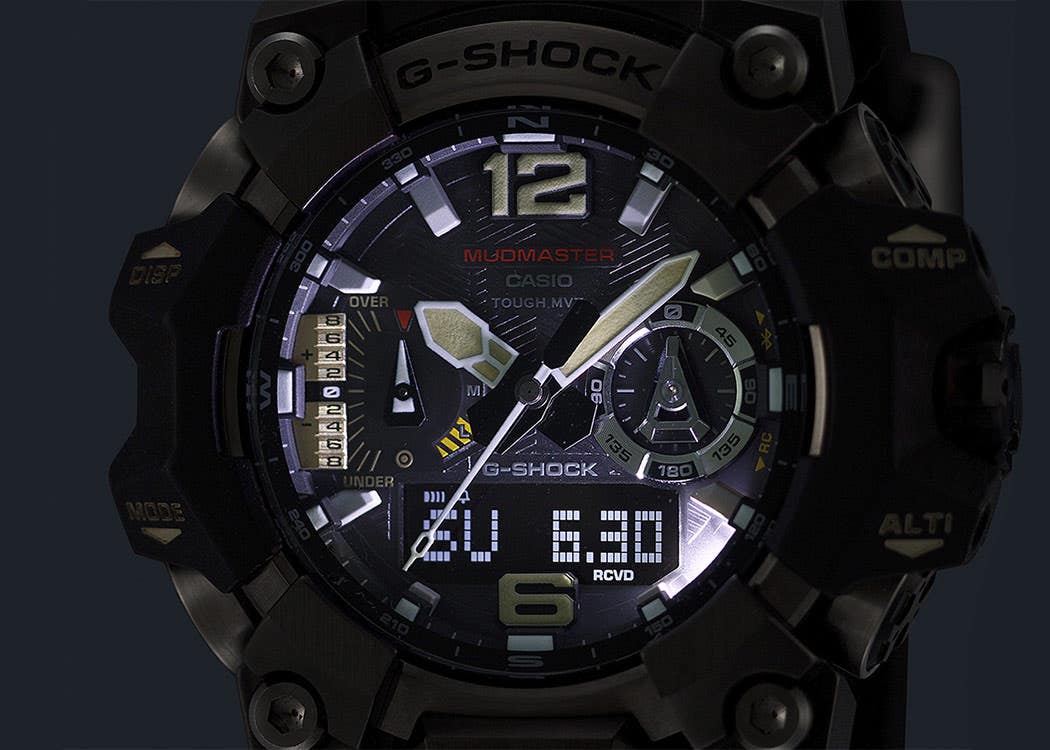 SUPER ILLUMINATOR
A built in high-brightness LED backlight ensures your MUDMASTER display is readable in all conditions. An easy to find central button at 6 o'clock position allows illumination to be within quick reach.
Shock-resistant structure
Dust- and mud-resistant structure
20-bar water resistance
Tough Solar (Solar powered)
Radio-controlled (Multi Band 6)
Auto hand home position correction
Hand shift feature
World time (29 cities)
Digital compass
Barometer
Altimeter
Thermometer
1/100-second stopwatch
Countdown timer
5 daily alarms
Full-auto double LED light (Super Illuminator)