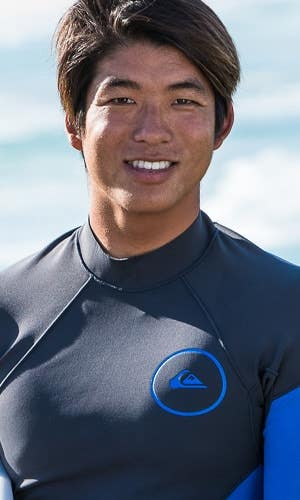 Biography
Kanoa Igarashi
Birth Date: October 1, 1997
Birth Place: Santa Monica, CA
Resides: Huntington Beach, CA

Kanoa grew up watching his dad surf every day in Huntington Beach, California. At the age of 3, he was done watching and jumped in the water himself. He was an instant talent and quickly commanded the attention of the surfing community. From 2008 to 2009, at 11 years old, Kanoa gained NSSA fame by claiming a stunning 30 contest wins to set a new record for the most victories in a single season. At 14 years old, Kanoa became the youngest NSSA competitor to ever win an Under-18Title.

Kanoa has just completed an amazing rookie year on the WSL World Championship Tour, ending the year ranked 20th in the world. The highlight of Kanoa's 2016 season came at the Billabong Pipeline Master, where he finished in second place. This result was the best of his young career and serves as a sign of great things to come.

Kanoa's popularity remains on the rise in the US, while he is already an established celebrity in Japan. The Japanese media produced a number of documentaries about Kanoa, causing him to be recognized quitefre quently when he visits his native country. Although he claims it's a bit weird to be stopped for autographs, he doesn't deny that it's still "kind ofcool."

When he's is not dominating WQS events or surfing on the world tour, you will most likely find Kanoa surfing his beloved south side Huntington Pier. Although Kanoa thrives on traveling the world to various tour stops, his native "Surf City" Huntington Beach will always remain a special place for him.