g-shock 40 year anniversary
Welcome to the G-SHOCK VAULT
Sealed away are 40 years of iconic designs & shock-proof wonders.
Discover a range of limited edition anniversary pieces.
Sign up for the latest launch updates & intel from the vault.
g-shock 40 year anniversary
Welcome to the G-SHOCK VAULT
Sealed away are 40 years of iconic designs & shock-proof wonders.
Discover a range of limited edition anniversary pieces.
Sign up for the latest launch updates & intel from the vault.

SIGN-UP TO BE THE FIRST TO KNOW
A CELEBRATION SET IN STONE
MARKING 40 years - THE ADVENTURERS GEM SERIES
coming soon. HISTORY. REMASTERED.
Introducing the 40th anniversary REMASTER series.
Commemorating 40 years of timepiece innovation
& unbeatable durability.
A carefully concealed
collection of stealthy icons.
From octagonal showstoppers
to 90's powerhouses.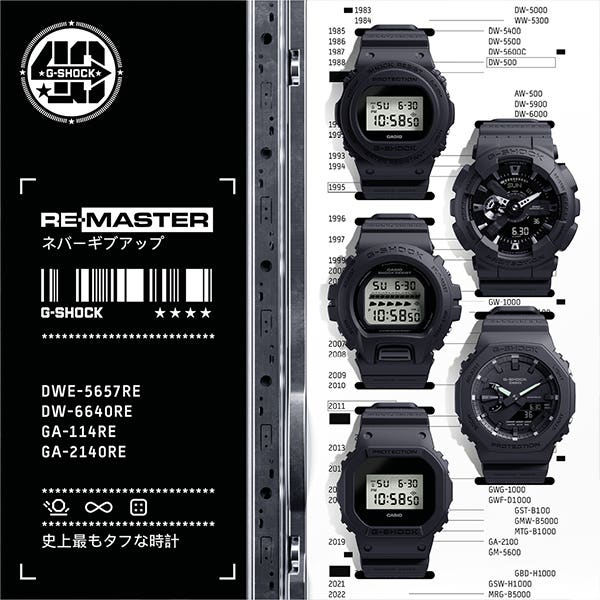 Our unmistakable 90's favourite makes an epic
return in this upgraded revival. Issued in a subdued
matte black finish, our beloved 6600 now has a built
in LED backlight replacing the EL original from 1994.
Equipped with its famed seconds counter display
and finished with gold tone anniversary hardware,
this is a comeback worth waiting for.
An icon, 40 years in the making. Our limited-edition
5657 REMASTER is supplied with two iconic case
bezels. Choose from our tank-like square 5600 dating
back to 1987, or the round 5700 case first released
22 years ago. Adorned with milestone watch releases
on the strap, together with 40th star details found on the
button & hardware. basic performance is also updated
to now feature Super Illuminator and five-year battery life.

a well-rounded square celebration of shock-proof clout.
A modern milestone in its own right, our ultra-popular
2100 hit the scene in 2019 and has gone on to become
an iconic mainstay in watch collections the world over.
Boasting a bold octagonal bezel and issued in a stealthy
matte finish all black design, This octagonal powerhouse
is built to celebrate icons young & old.
One of our most popular timepieces to date - the unstoppable
110 was unleashed in 2010 . Turning heads with its bold
multi-layer dial, classic ani-digi display and shock
absorbers at all four corners. This limited-edition features
40th details on the dial & caseback complementing this
milestone celebration piece.
Despite its subtle matte black finish, this is an edition that's
bound to be noticed.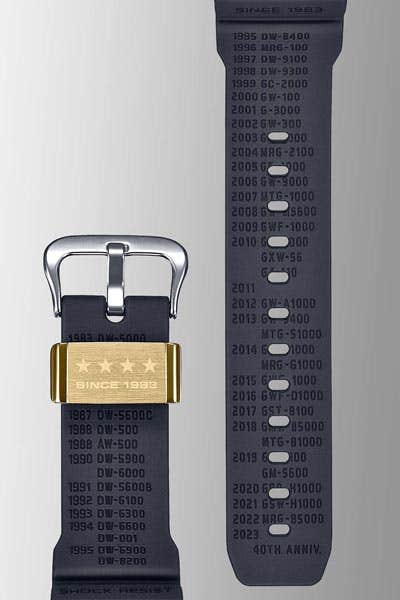 The REMASTER collection features a unique milestone band. Marking key milestone models released over G-SHOCK's 40 year evolution since the very first model hit the scene in 1983.
Inspired by stone monuments that stand the test of time, iconic models from G-SHOCK history are imprinted in the band along with their launch years using a hot-stamping process that impresses the lettering into the band with a textural, indented effect.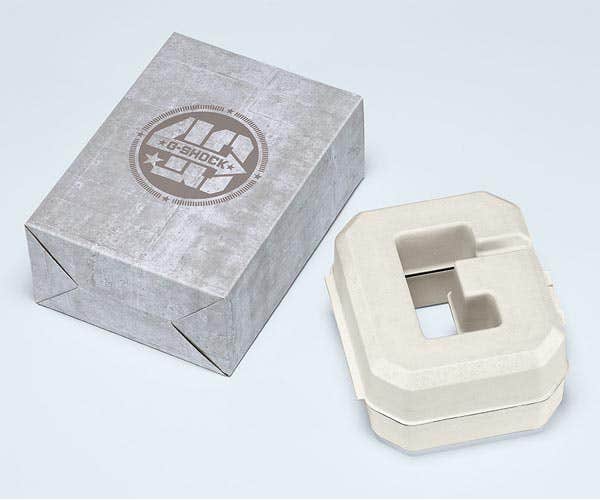 Special packaging:
Eco-consciousness embodied
.
Made with recycled materials, the specially designed eco-friendly
packaging is shaped like the G in G-SHOCK. Recycled paper and
vegetable ink is used for the outer box.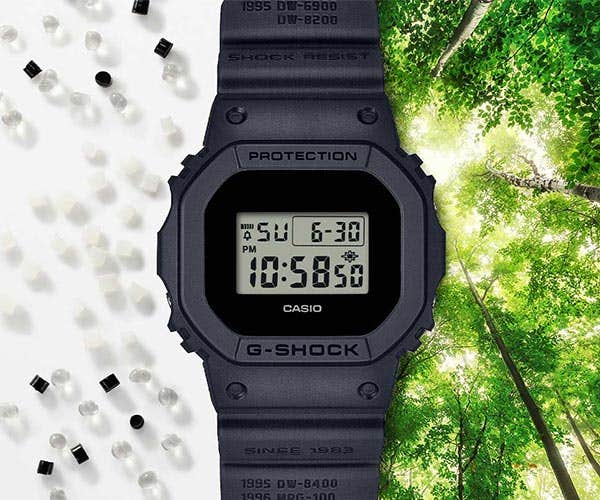 The REMASTERS bezel and band are made with bio-based resins produced using renewable organic resources such as castor oil plants and corn, helping to reduce the ecological footprint of this watch. --- Icons - Decades in the making
G-SHOCK was born from a single belief that there could be a watch that would not break. In the early 1980s, CASIO's Project Team Tough constructed over 200 prototypes for performance testing, spending over two years developing the structure and improving the design. An unrelenting process of trial and error was repeated continuously until 1983, when the shock-resistant structure that is still G-SHOCK's core technology today was finally accomplished.
For 40 years, G-SHOCK has continued to push the boundaries of modern technology & shock-proof design - developing iconic case designs that have come to define the decades in which they were launched.
Click on a Vault design schematic above to find out more.


The tank-like square watch that started it all.
The 5000 took the world by storm in the 80's -
So different from the contemporary trend for thinner,
lighter timepieces, it caused a stir in the international media
by shattering the notion of a watch as a fragile piece of jewellery
to be handled with care. Boasting a unique digital only time
read-out surrounded by shock absorbing bumpers at all 4 corners
of the case.
Remaining G-SHOCK's origin case, the design reamins as popular
and durable as ever - Breaking a Guinness World Record in 2014
when a 24 tonne lorry drove over one -
only for the watch to survive, be able to be worn and
still function perfectly.
A 90's marvel, the 6900 case design was released in 1995.
With its rounded form a departure from the squared
design of the original DW-5000 model. Sporting a
'Triple graph' and full screen variant with the 6640.
The series became popular thanks to the addition of
a front mounted quick access light button and clear
read out display. This prompted the design quickly
being adopted by the military including documented use
by the SAS and American Special forces.
2010 saw the release of the famous GA-110 case design.
Easily one if the most recognisable designs G-SHOCK
has produced over the past 40 years.
Influenced by the industrial design of steampunk, the case shape
delivered an overwhelming sense of presence and unique detail
that won over fans & newcomers alike worldwide.
Combining a large case design with a multi-layer shock-proof
dial, this case features bold pronounced shock absorbers on
the bezel and case corners.
In 2019, G-SHOCK set out once more to create the
ultimate in toughness and clean aesthetics,
whilst combining both analogue and digital
functionality, the GA-2100 was born.
The slimmest G-Shock ever made, taking the internet
by storm and becoming an instant design classic.
Boasting Carbon Core Guard integration, the 2100
is just as strong as its predecessors from decades before.
Sporting the iconic shock absorbers at all four corners
and dimpled lug strap that G-SHOCK's have come
to be known for.

SIGN-UP TO BE THE FIRST TO KNOW
A CELEBRATION SET IN STONE
MARKING 40 years - THE ADVENTURERS GEM SERIES
coming soon.
Tech Specifications
| Feature | Description |
| --- | --- |
| Water Resistant | 200 Metres Water Resistant |
| Accuracy | +/- 15 seconds per month |
| Alarm Function | 5 Daily Alarms: Each will sound every day at the time you set, Hourly time signal: The watch beeps every hour on the hour, Snooze function |
| Auto Calendar | Once set, the automatic calendar always displays the correct date |
| Band Material | Resin |
| Battery Life | Approximately 3 years |
| Countdown Timer Function | Countdown Range: 24 hours, Measuring Unit: 1 second |
| Date and Weekday Display | The current date and week day are displayed on the watch face |
| Date Display | The current date is displayed on the watch face |
| Dimensions | 51.9 x 48.8 x 16.9 mm |
| Display Illumination | Auto Light: The watch face will illuminate automatically when you tilt your wrist towards you. Once activated, this feature will automatically deactivate after six hours., LED light, Selectable illumination duration (1.5 seconds or 3 seconds), With afterglow |
| Low Temperature Resistant | -10 °C/ 14°F |
| Magnetic Resistance | The case has been specially mounted to be shielded from magnetic fields. |
| Mineral Glass | Hard glass resists scratching |
| Mute Function | The button tones on the mode button can be switched off for discreet operation. Pre-set alarm or timer functions remain active. |
| Neobrite | A luminous coating on the watch hands provides illumination in the dark. |
| Shock Resistant | Patented Hollow Core Guard Structure protects against impact and vibration |
| Stopwatch Function | Measuring Capacity: 1000 hours, Measuring Modes: Elapsed time, split time, Measuring Unit: 1/100th second |
| Vibration Resistant | Resistant against vibration from heavy duty operations |
| World Time | Displays the current time in major cities and specific areas around the world |