CASIO CHRISTMAS
ADVENT DAY 6
WIN A LIMITED EDITION CETRA VISIONS G-SHOCK WATCH
The DW-5600CETRA-7AER has been crafted in collaboration with clothing designer Marino Morwood's Cetra Visions brand. This is the first watch collaboration for Morwood, who rose to fame in 2016 with his rap tees that were worn by the likes of A$AP Rocky, Playboi Carti and Quavo.
For a chance to win one of these limited edition watches, simply enter our raffle using the form below!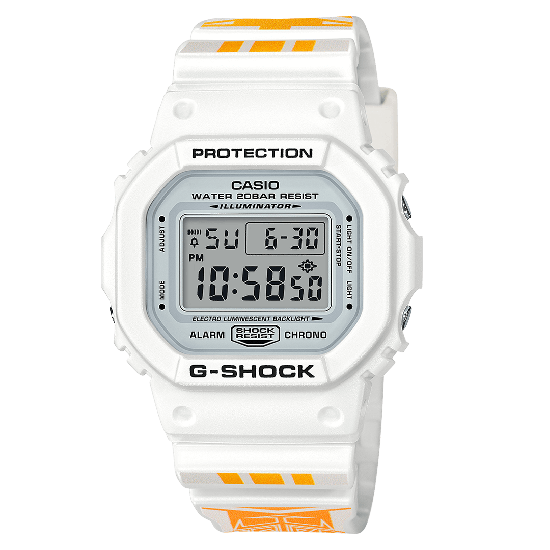 TERMS & CONDITIONS
• The prize draw is open to UK residents aged 18 and over.
•Entries will be accepted through the following methods:
Sign up to enter the raffle on https://www.g-shock.co.uk/adventday6
• The Prize Draw winner must verify their email address prior to the prize being awarded. Failure to do so within 14 days of the completion closing date will result in their entry being deemed invalid and an alternative winner being selected.
• Entrants into the Prize Draw shall be deemed to have accepted these Terms and Conditions.
•Casio accepts no responsibility for entries that are incomplete or cannot be registered or entered for any technical or other reason.
• The closing date for Prize Draw entry is 11:00am on 7th December 2021. Entries received outside this time period will not be considered.
• One winner will be chosen from a random draw of entries received in accordance with these Terms and Conditions. The draw will be performed by a random computer process. The draw will take place shortly after the prize draw entry closes.
• The winner will be notified by email. If a winner does not respond within 14 days of being notified, then the winner's prize will be forfeited and Casio shall be entitled to select another winner in accordance with the process described above (and that winner will have to respond to notification of their win within 14 days or else they will also forfeit their prize). If a winner rejects their prize or the entry is invalid or in breach of these Terms and Conditions, the winner's prize will be forfeited and Casio shall be entitled to select another winner.
• One DW-5600CETRA-7AER watch will be issued to the prize winner.
• The prize is non-exchangeable, non-transferable, and is not redeemable for cash or other prizes.
• Casio retains the right to substitute any prize with another prize of similar value in the event the original prize offered is not available.
• Casio shall use and take care of any personal information you supply to it as described in its privacy policy and in accordance with data protection legislation. By entering the Prize Draw, you agree to the collection, retention, usage and distribution of your personal information in order to process and contact you about your Prize Draw entry.
• Casio reserves the right at any time and from time to time to modify or discontinue, temporarily or permanently, this Prize Draw with or without prior notice due to reasons outside its control (including, without limitation, in the case of anticipated, suspected or actual fraud). The decision of Casio in all matters under its control is final and binding and no correspondence will be entered into.
• The Prize Draw will be governed by English law and entrants to the Prize Draw submit to the exclusive jurisdiction of the English courts.
• Promoter: Casio Electronics, Harp View, 12 Priestley Way, London, NW2 7JD.