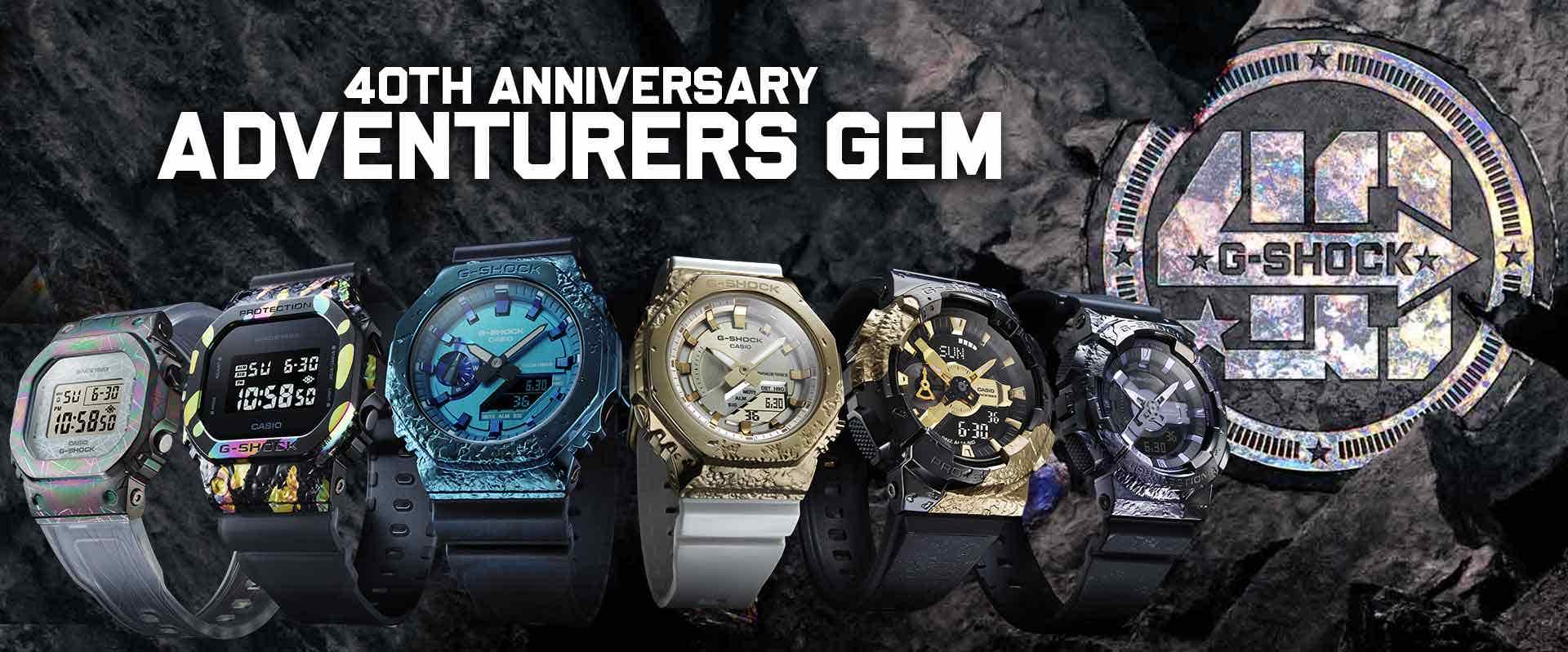 SIGN-UP TO BE THE FIRST TO KNOW
A CELEBRATION SET IN STONE
MARKING 40 years - THE ADVENTURERS GEM SERIES
coming soon.
The G-SHOCK spirit of supporting and guiding all who take on challenges is now expressed in mineral stone. Inspired by stones that have been used as guideposts for adventurers since the Middle Ages.
This limited edition collection is expertly crafted using several forging and processing technologies - designed to create a truly unique finish.
These extraordinary timepieces are brimming with the spirit of adventure, perfect for the G-SHOCK's 40th anniversary.
Coming Soon
GM-2140GEM Cordierite:
The iconic 2100 is back in this bold blue cordierite inspired piece. Boasting an expertly finished forged bezel and a mixed-colour resin band. The polarised vapour deposition on the dial provides a different shine depending on the viewing angle.
Coming Soon

GM-114GEM Calcite:
Our unmistakable 110 case is re-born - This limited edition brings a steel bezel forged and ion plated with gold and black to represent calcite's base ore. Carefully crafted heat treatment gives the band its uneven texture finishing this bold design
Coming Soon

GM-5640GEM Sunstone:
Established in 1983 - our tank like 5600 case plays host to Sunstone's multicolour shine, which beautifully changes colour depending on the viewing angle, represented in the forged, rainbow-colour bezel.
Finished with a carefully selected translucent grey band - bringing out the texture of the metal
Coming Soon

S-SERIES CALCITE:
The raw texture of calcite's crystalline pattern is evoked in the accompanying compact S-Series collection.
Featuring beautiful refracted glows and skilled vapour deposition these models perfectly reflect the gem stones inspiration.
Coming Soon

SIGN-UP TO BE THE FIRST TO KNOW
A year of extraordinary limited edition pieces
celebrating 40 years.
coming soon.
be ready
Tech Specifications
| Feature | Description |
| --- | --- |
| Water Resistant | 200 Metres Water Resistant |
| Accuracy | +/- 15 seconds per month |
| Alarm Function | 5 Daily Alarms: Each will sound every day at the time you set, Hourly time signal: The watch beeps every hour on the hour, Snooze function |
| Auto Calendar | Once set, the automatic calendar always displays the correct date |
| Band Material | Resin |
| Battery Life | Approximately 3 years |
| Countdown Timer Function | Countdown Range: 24 hours, Measuring Unit: 1 second |
| Date and Weekday Display | The current date and week day are displayed on the watch face |
| Date Display | The current date is displayed on the watch face |
| Dimensions | 51.9 x 48.8 x 16.9 mm |
| Display Illumination | Auto Light: The watch face will illuminate automatically when you tilt your wrist towards you. Once activated, this feature will automatically deactivate after six hours., LED light, Selectable illumination duration (1.5 seconds or 3 seconds), With afterglow |
| Low Temperature Resistant | -10 °C/ 14°F |
| Magnetic Resistance | The case has been specially mounted to be shielded from magnetic fields. |
| Mineral Glass | Hard glass resists scratching |
| Mute Function | The button tones on the mode button can be switched off for discreet operation. Pre-set alarm or timer functions remain active. |
| Neobrite | A luminous coating on the watch hands provides illumination in the dark. |
| Shock Resistant | Patented Hollow Core Guard Structure protects against impact and vibration |
| Stopwatch Function | Measuring Capacity: 1000 hours, Measuring Modes: Elapsed time, split time, Measuring Unit: 1/100th second |
| Vibration Resistant | Resistant against vibration from heavy duty operations |
| World Time | Displays the current time in major cities and specific areas around the world |