What does Bluetooth do on G-SHOCK?

G-SHOCK Bluetooth watches allow all timepiece functions to be controlled wirelessly via a mobile phone. Bluetooth G-SHOCKS's provide access to a host of useful functions, such as syncronising your G-SHOCK watch to the date & time on your smartphone providing automatic time adjustment in over 300 cities worldwide as your travel, built in Phone Finder, set & customise daily alarms, timers, time-zones and more.

Do all G-SHOCK watches have Bluetooth?

A large range of G-SHOCK watches now feature Bluetooth, such as our G-Steel, MTG & Master of G ranges – Our iconic 2100 series has recently had a solar & Bluetooth upgrade with the new GA-B2100 & Full Metal GM-B2100.

Discover the full range or Bluetooth watches

How do I connect my G-SHOCK watch to my phone?

To connect your G-SHOCK watch to your smartphone, follow these simple steps:

Remember: All G-SHOCK Bluetooth watches released from May 2022 now use the CASIO WATCHES Bluetooth app available on the google play & Apple app store.
For previous models – refer to your watches instruction manual, these will use the G-SHOCK CONNECTED OR G-SHOCK MOVE applications.

1, Download CASIO WATCHES APP (free mobile app, available on the Apple App & Google Play store)
2, Go to settings and turn on the Bluetooth on your smartphone
3, Open the CASIO WATCHES APP
4, Log in using your Casio ID, if you don't have an account, easily create one with entering your email address and a password of your choice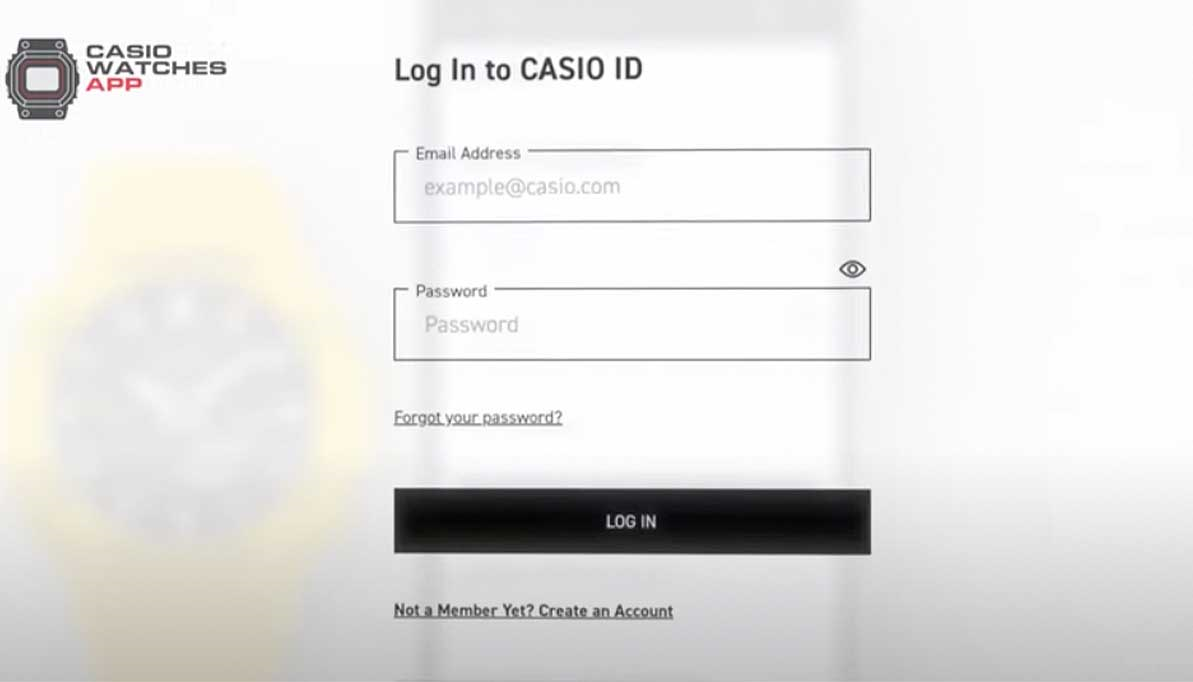 5, Once you've completed the set up via the confirmation email, log in and get started
6, Connect your G-SHOCK watch by pressing the add (+) symbol on your lower right on the 'My Watch' screen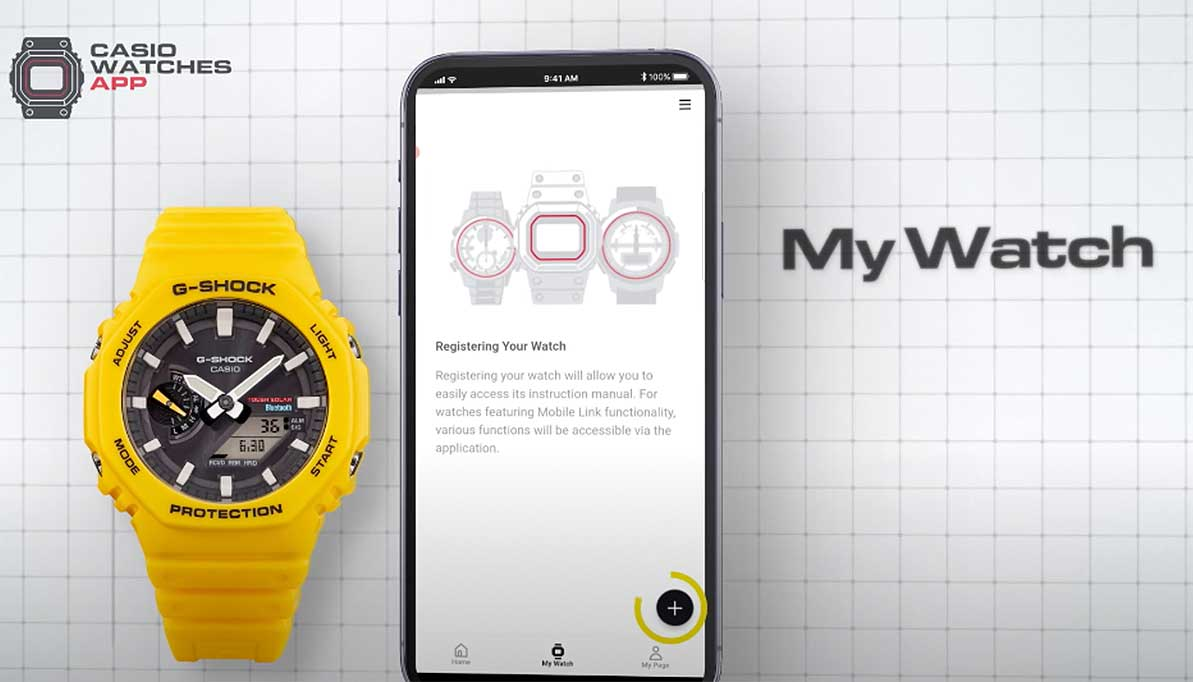 7, Enter the module number that can be found at the back of your watch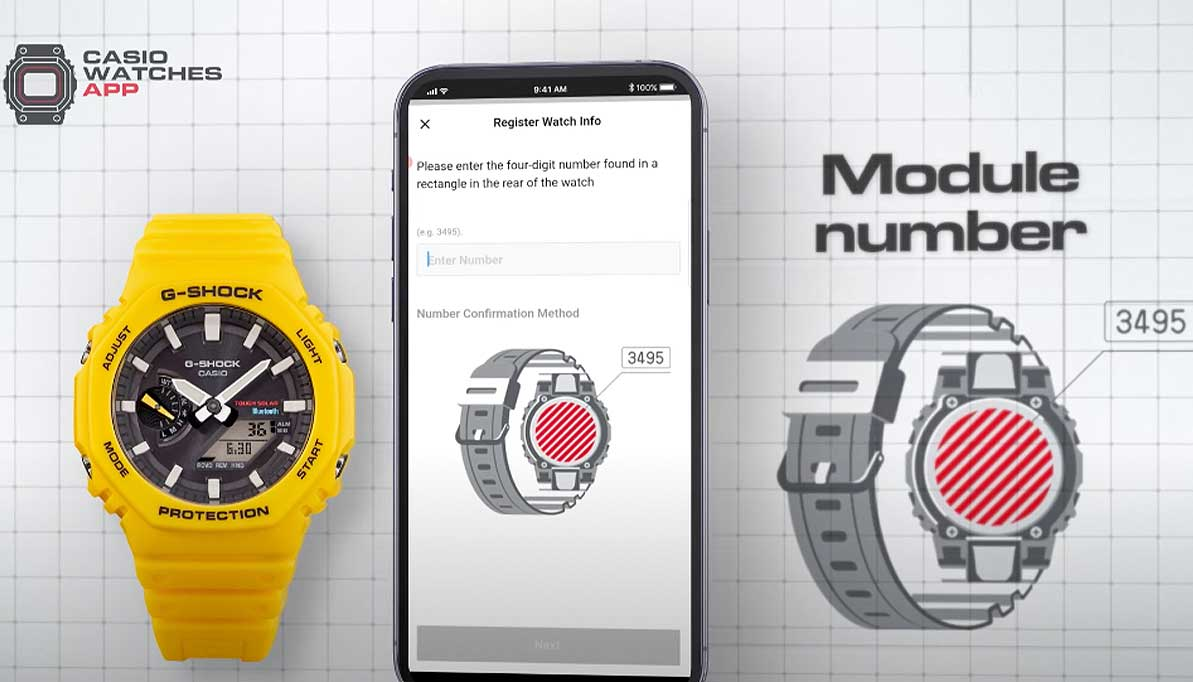 8, Simply select your timepiece from the list
9, Follow the on-screen instructions to pair your watch to the app
10, Hold down the C button for at least 3 seconds until a beep sound is heard and the mode hand points to the Bluetooth mark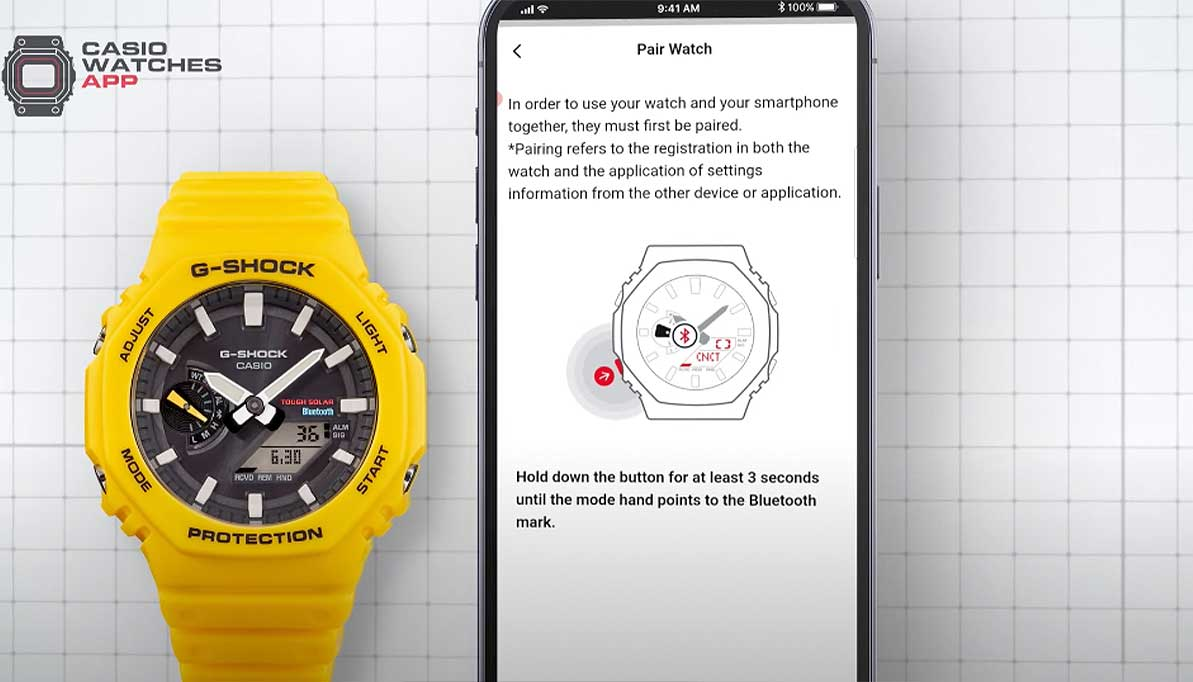 11, To finish your registration, the app will automatically set the time & date on your G-SHOCK watch
What does the CASIO WATCHES APP do?

Bluetooth connected watches Casio Bluetooth watches offer a wide variety of wirelessly controlled features in addition to the standard features built into your watch, such as alarms, count down timer, stopwatch, World Time with a Bluetooth enabled G-SHOCK watch, you will be able to customise all these functions via the CASIO WATCHES APP.
Furthermore, Bluetooth-connected watches provide enhanced features for example, World & Home Time, which automatically update time anywhere you travel in the world by utilising your smartphone GPS signal. Your G-SHOCK watch checks the time 4x a day in your current location as well as each time you connect to the app.

World & Home Time

World Time allows you to set and view a secondary Time Zone on your G-SHOCK. Select World Time on CASIO WATCHES APP you will see an interactive map appear on your screen. Manually select or search for the location of your choice, and when done, you can view the current time on this location and set this as the World
Time Zone on your G-SHOCK watch.
Tap on Home Time on the app to view the Main time zone that your watch is set to, together with the matching time zone on your smartphone. This will update automatically as you travel.

To change the Time Zone display, simply select Watch Setting from the drop down menu and tap Change Time Display, here you can view each time zone and switch them over to your preference. Your G-SHOCK will update the time accordingly.
Phone Finder

Designed to find your phone, even if it's in silent mode, this feature will cause your phone to admit a loud sound by pushing a button on your G-SHOCK watch. Select Phone Finder in the CASIO WATCHES APP to configure the ring tone alongside with the ring volume that sounds when activated. Phone Finder activations can vary between different watches. Please review your instruction manual to identify which button will activate this mode.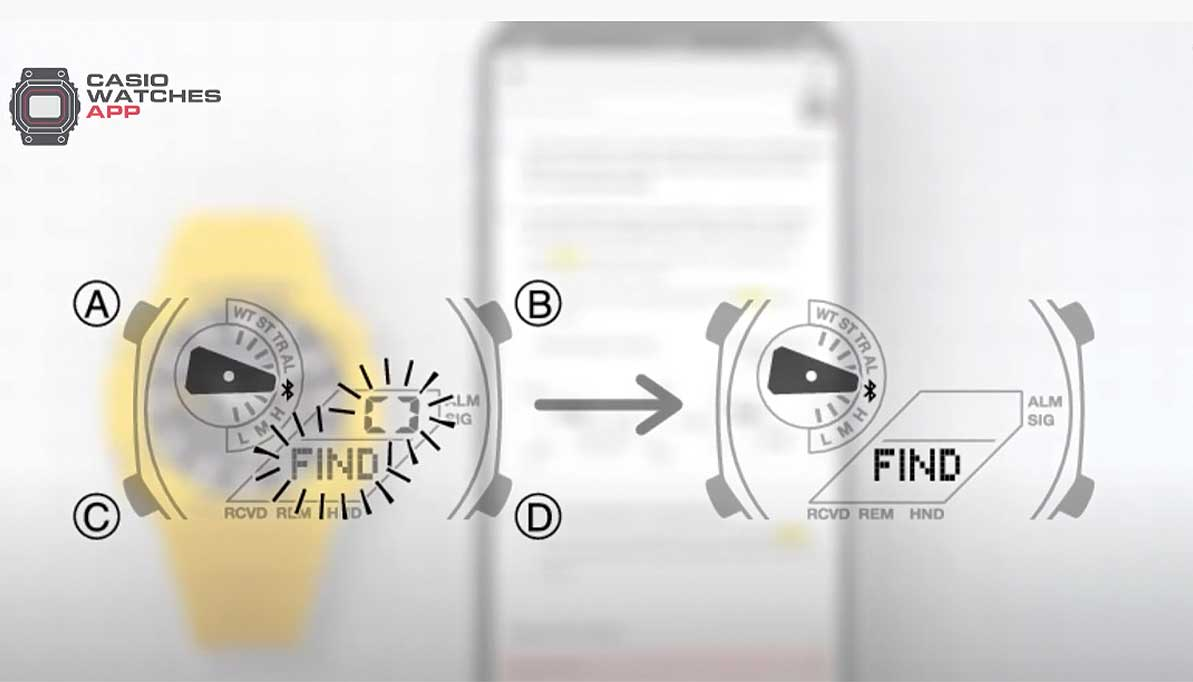 In this example, holding the lower right button will activate Phone Finder shown when 'Find' starts to flash on your watch's screen. Now your G-SHOCK will ring with your chosen ring tone for 30 seconds. When your phone is found, unlock your phone or press any button on your watch to stop it.
Phone Finder requires your Bluetooth and Location functions to be switched on, and it will operate approximately within a 30 feet radius from your device.
Alarm & Timers

The CASIO WATCHES APP provides quick alarm and timer settings. Tap an alarm and set your desired time, once you have input your chosen alarms, select & send setting to watch & at the bottom of your screen to activate them on your timepiece.

When Signal Alarm is activated, it will cause you watch to admit a sound at the turn of each hour.

Reminder mode allows your timepiece to display notifications on set days when schedules or events are registered within the app.
Watch Settings
CASIO WATCHES APP provides easy access to key settings on your timepiece. Select the drop-down menu to customise your watch further and adjust settings that suit you, such as Key Sounds, Light, Watch Display, Power Saving, Change Time Display and Connection time within the app.
Setting up a G-SHOCK watch has never been easier thanks to the introduction of Bluetooth technology. With every function now   to be controlled via yourmobile phone you can make the very most of all the tools & features your G-SHOCK watch has to offer.