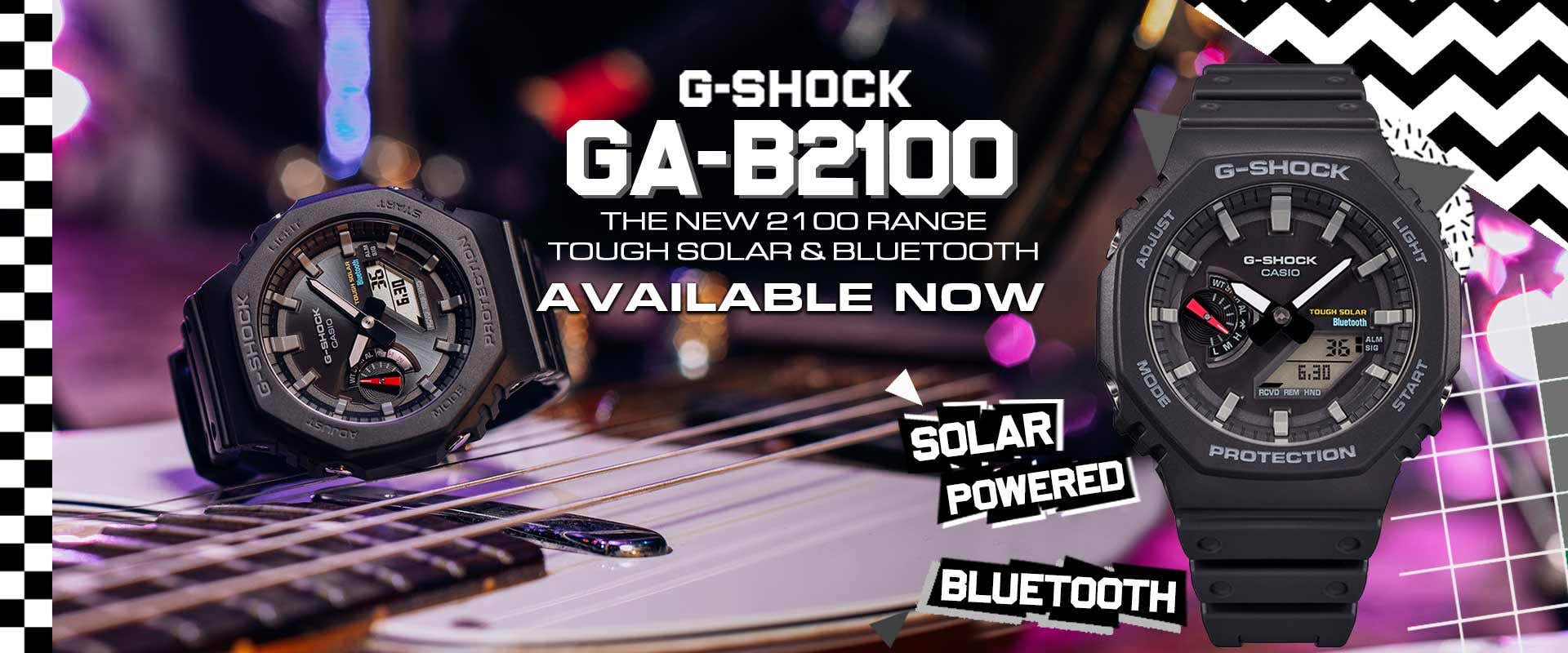 PRE-SALE IS NOW CLOSED!
Pre-Orders placed already are expected to be delivered by 19th May 2022.*
More info coming soon regarding the release of the remaining stock for General Sale. Yellow & Blue versions have currently sold out of all incoming stock for the general sale launch. More stock of all colours is due in the coming months. Sign up via Notify me button on product pages for updates.
*Extended delivery times may occur & will vary. This is a best estimate at the time of publishing.
GA-B2100
TOUGH SOLAR
BLUETOOTH
£129/£139
The iconic 2100 series returns.
Celebrating the original colours of G-SHOCK's from the 90's - This new collection brings the latest in sustainable Solar Power & Bluetooth technology whilst connecting to G-SHOCKs vibrant past.
Boasting an octaganal bezel & slim profile the 2100 is an instant classic that's built to last.
The GA-B2100C-9AER 90's Origin Yellow version comes complete with a steel black IP buckle and matching black keeper.
#NEVERGIVEUP: THE G-SHOCK STORY
In 1981, Kikuo Ibe, an engineer at CASIO's R&D in Tokyo, dropped the watch that had been given to him by his father, shattering it into pieces. From this, he embarked on a mission to create a truly indestructible watch. Mr. Ibe immediatley set up "Project Team Tough" in order to work on and carry out his goal. In 1983, after two years of rigorous testing and the creation of over 200 prototype watches, he achieved his goal of creating the unbreakable watch and G-SHOCK was born.
This story reflects the ethos of the G-SHOCK brand and its 'Never Give Up' spirit.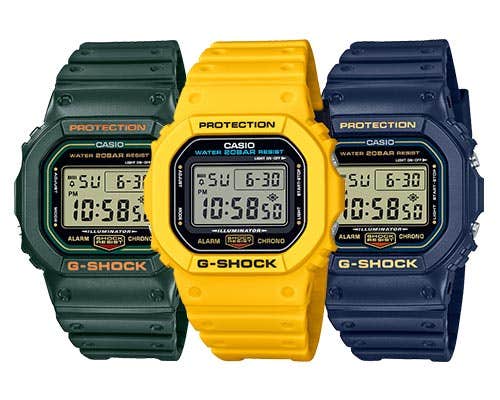 MAKING ICONS SINCE '83
From its release, G-SHOCK quickly became popular being worn initially by skateboarders for their robustness before gaining prominence in street culture and becoming an integral piece of wristwear in the world of music, fashion and sports, as well as the artistic landscape of urban culture.
We continue to celebrate our heritage and the new 2100 release is no different, featuring the very same colours found in our original 90's square DW-5600 releases,
G-SHOCK'S NEW STANDARD – THE GA-2100
The first digital G-SHOCK DW-5000 was realised in 1983 and was born from the quest to create the toughest digital watch imaginable, and one which was lightweight and efficient. Then, in 1989, G-SHOCK's first analogue design followed in the form of the AW-500.
In 2019, G-SHOCK set out to create the ultimate in toughness and clean aesthetics, whilst combining both analogue and digital functionality – The GA-2100 was born. It represents the quest for a new standard of G-SHOCK, whilst still retaining the iconic elements of icons past in the DW-5000 and AW-500.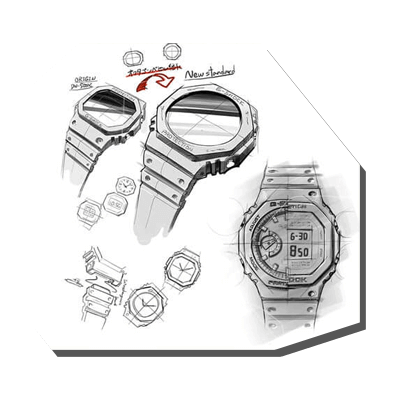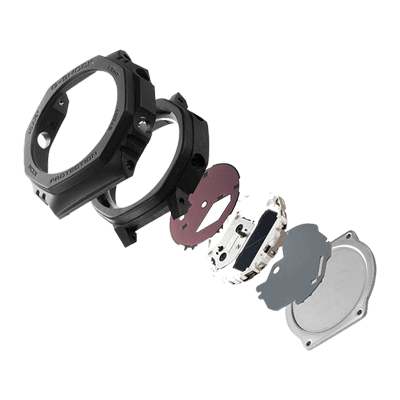 The new GA-B2100 is now completely solar powered,
powered by any light source.
Your watch will charge under artificial & natural light,
a sustainable source of power that will keep your watch ticking day & night.
As little as 8 minutes of sunlight provides one whole days worth of power.
No battery changes, power reserve that lasts months & huge peace of mind.
Connect your GA-B2100 to the new CASIO WATCHES free mobile app available on the Apple App & Google Play store.
Instantly syncronise your watch to the date & time on your phone.

Automatic time updates worldwide as you travel
Built in Phone Finder - Make your phone emit a loud ring even when it's on silent with the press of a button
Set & customise every feature on your 2100 wirelessly via your mobile - access daily alarms, timers & time-zones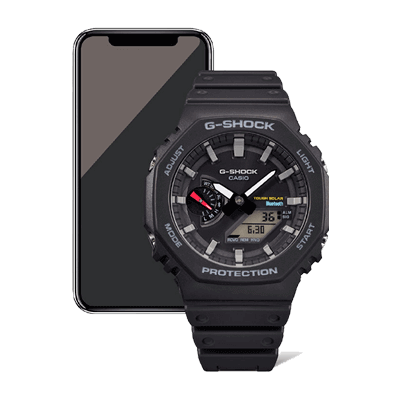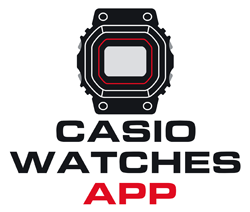 TECHNICAL FEATURES
Tech Specifications
| Feature | Description |
| --- | --- |
| Water Resistant | 200 Metres Water Resistant |
| Accuracy | +/- 15 seconds per month |
| Alarm Function | 5 Daily Alarms: Each will sound every day at the time you set, Hourly time signal: The watch beeps every hour on the hour |
| Auto Calendar | Once set, the automatic calendar always displays the correct date |
| Band Material | Resin |
| Battery Life | Solar power - Artificial & Natural Light - Upto 12 months power reserve |
| Core Guard Structure | New Carbon Core Guard Structure |
| Countdown Timer Function | Countdown Range: 24 hours, Measuring Unit: 1 second |
| Date and Weekday Display | The current date and week day are displayed on the watch face |
| Date Display | The current date is displayed on the watch face |
| Dimensions | 48.5 x 45.4 x 11.8 mm |
| Dual Time | Simultaneous display of the current time in two different time zones. |
| Hand Shift Function | With a push of a button, hands move away from the LCD to permit free visibility. |
| Display Illumination | Dual Illuminator: Separate illumination of the analogue and digital components ensures optimum readability in low light conditions., Selectable illumination duration (1.5 seconds or 3 seconds), With afterglow |
| Low Temperature Resistant | -10 °C/ 14°F |
| Mineral Glass | Hard glass resists scratching |
| Mute Function | The button tones on the mode button can be switched off for discreet operation. Pre-set alarm or timer functions remain active. |
| Shock Resistant | Patented Hollow Core Guard Structure protects against impact and vibration |
| Stopwatch Function | Measuring Capacity: 24 hours, Measuring Modes: Elapsed time, split time, 1st-2nd place times, Measuring Unit: 1/100 second (for the first 60 minutes) 1 second (after 60 minutes) |
| Vibration Resistant | Resistant against vibration from heavy duty operations |
| World Time | Displays the current time in major cities and specific areas around the world |