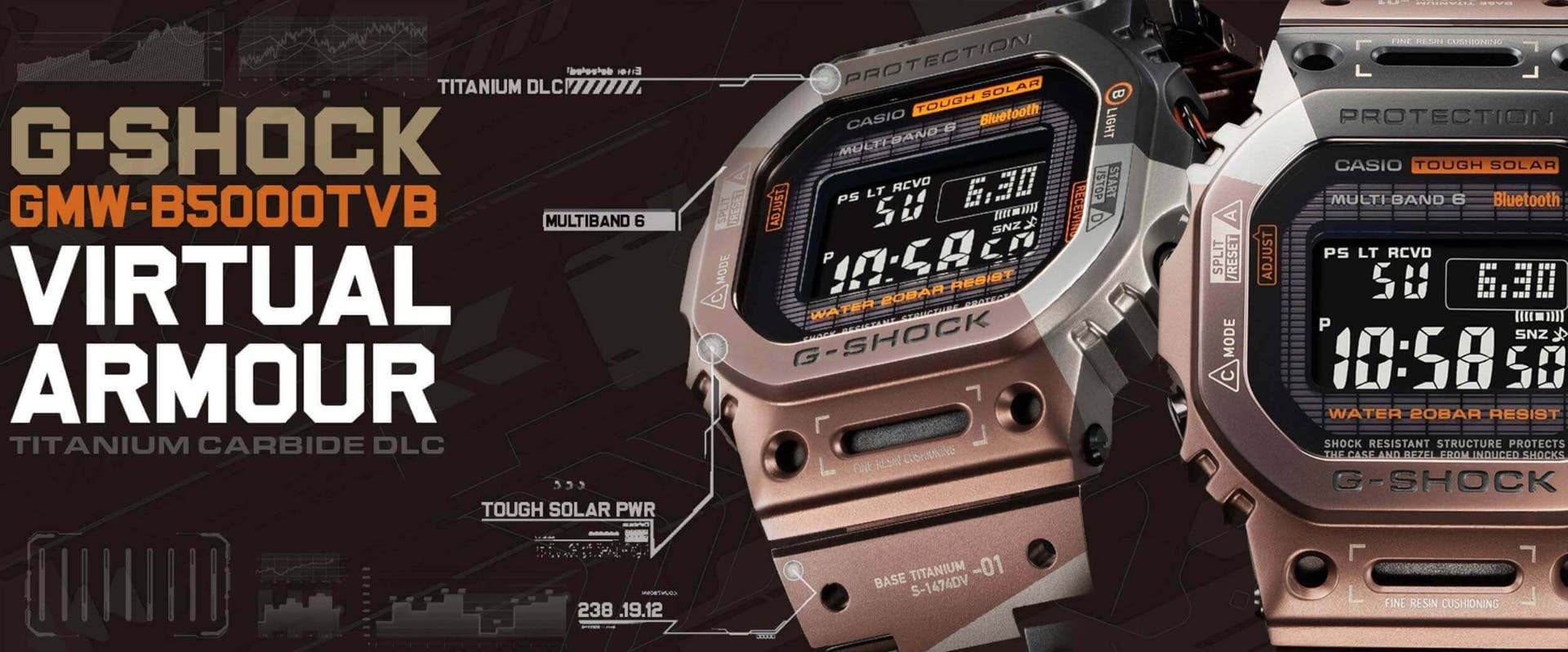 - THE TITANIUM SQUARE JUST GOT AN
ARMOUR UPGRADE
A DESIGN LIKE NO OTHER



GMW-B5000TVB



The second in the mecha-like, label-heavy Virtual Armour series.
Built from Titanium, coated with Titanium Carbide & Diamond Like Carbon

The unique finish creates a geometric camouflage pattern using 7 individual mask and laser techniques.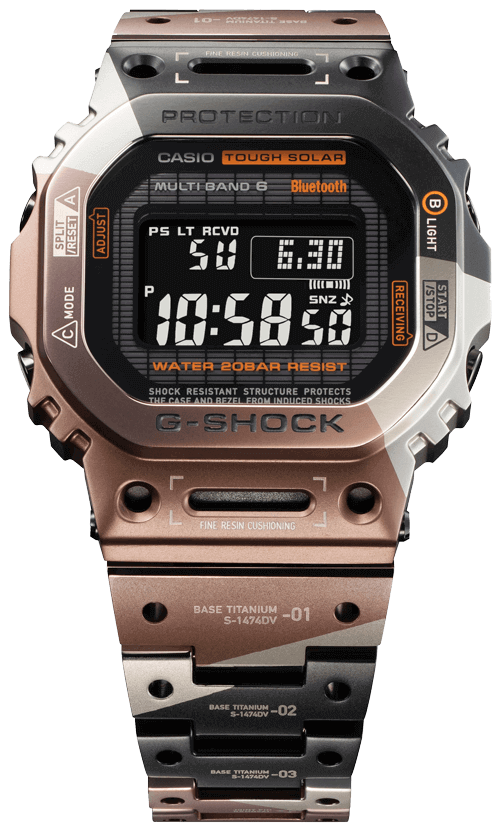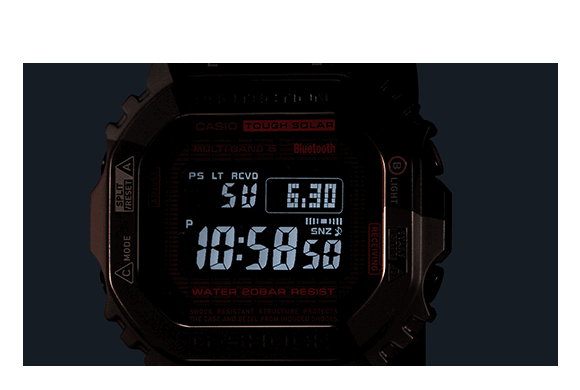 Evolving dial-lighting technologies
Full-auto LED backlight (Super Illuminator)
An LED backlight illuminates the LCD with high-brightness light. It detects ambient light in the surroundings automatically, and switches on with a tilt of the wrist in the dark. New features such as fade in/out and white/orange lighting add further versatility.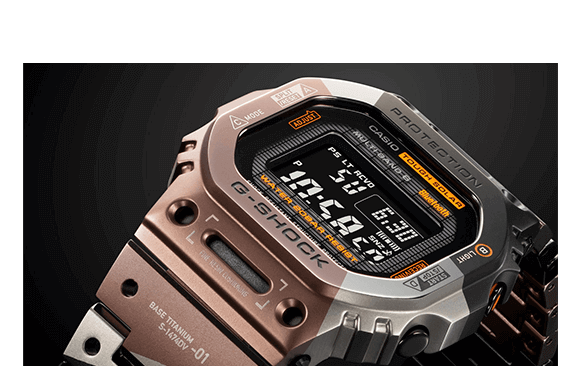 Featuring an iconic high contrast digital display, the TVB boasts ultra-reliable solar power, powered by any light source.
Highlighted with enhanced solar panel design surrounding the timepiece display.
Mecha inspired labelling of display functions finish this virtual-armour themed display.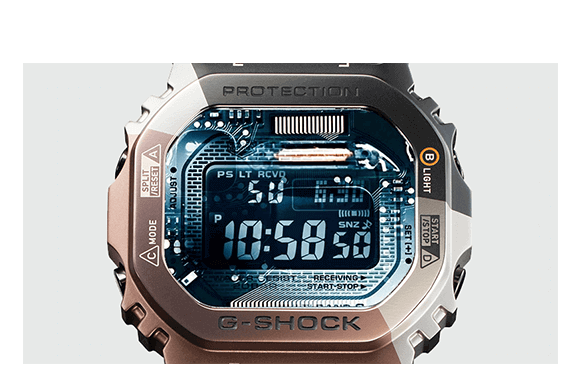 Breakthroughs in functional innovation
We have leveraged our proprietary high-density mounting, miniaturization and power-saving technologies to install multiple functions without increasing the watch's size. This innovative functional evolution has included such achievements as simultaneous installation of Bluetooth® communications and radio-controlled, solar-powered timekeeping.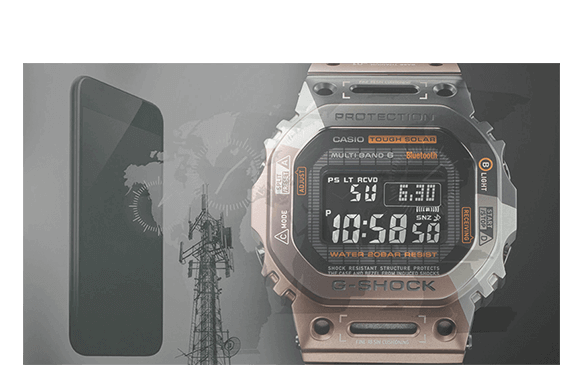 Challenging absolute accuracy
Bluetooth® + Radio-controlled, solar-powered timekeeping
Time correction is conducted by either Bluetooth® communications or standard time radio wave (Multi Band 6)*, depending on the circumstances. Reception of the most recent time zone and Daylight Saving Time information assures that the correct time is displayed at all times.

TECHNICAL FEATURES
Tech Specifications
| Feature | Description |
| --- | --- |
| Water Resistant | 200 Metres Water Resistant |
| Accuracy | +/- 15 seconds per month |
| Alarm Function | 5 Daily Alarms: Each will sound every day at the time you set, Hourly time signal: The watch beeps every hour on the hour, Snooze function |
| Auto Calendar | Once set, the automatic calendar always displays the correct date |
| Band Material | Titanium |
| Battery Level Indicator | An indicator shows the current battery charge level |
| Battery Life | Approximately 10 months on full charge (without further exposure to light) |
| Bluetooth® Connectivity | Signal Range: Up to 2m (may differ depending on surrounding conditions), The watch can be wirelessly connected to a compatible smartphone or tablet via Bluetooth. The energy-saving technology enables access to a host of functions., The watch will automatically synchronise it's time when connected to a compatible smartphone |
| Countdown Timer Function | Countdown Range: 24 hours, Measuring Unit: 1 second |
| Customisable Date Format | YY/MM/DD - DD/MM/YY - MM-DD-YY |
| Date and Weekday Display | The current date and week day are displayed on the watch face |
| Date Display | The current date is displayed on the watch face |
| Dimensions | 49.3 x 43.2 x 13.0 mm |
| Display Illumination | Full Auto Light: In low light, the watch face will illuminate automatically when you tilt your wrist towards you, With afterglow, Selectable illumination duration (2.0 seconds or 4.0 seconds) |
| Low Temperature Resistant | -10 °C/ 14°F |
| Multi Language Display | Select from a number of different languages |
| Mute Function | The button tones on the mode button can be switched off for discreet operation. Pre-set alarm or timer functions remain active. |
| One Touch- Three Fold Clasp | Designed for a secure hold |
| Power Saving | After the Alert: The following operations are stopped to save power: all hand movement (excluding the day indicator), Bluetooth connection, if applicable, and alarms |
| Radio Controlled Timekeeping | Multi-Band 6: Automatic Atomic Time updates are received overnight for exceptional accuracy (UK/ EU/ USA/ Japan/ China: home city must be set manually) |
| Sapphire Crystal Glass | High-clarity glass with the highest level of scratch resistance., Non reflective coating. |
| Screw Lock Back | The screw connection on the base of the housing optimally protects the inner workings of the watch and simultaneously provides easy access, when changing the battery. |
| Shock Resistant | Patented Hollow Core Guard Structure protects against impact and vibration |
| Solar Power | A high-capacity solar-charging system harnesses the power of any light source for reliable watch operation with minimal impact to the environment. |
| Stopwatch Function | Measuring Capacity: 24 hours, Measuring Modes: Elapsed time, split time, 1st-2nd place times, Measuring Unit: 1/100 second (for the first 60 minutes) 1 second (after 60 minutes) |
| Weight (Gram) | 106 |
| Vibration Resistant | Resistant against vibration from heavy duty operations |
| World Time | CASIO WATCH+ World Time lets you select from among approximately 300 cities as the World Time City, Displays the current time in major cities and specific areas around the world |