G-SHOCK x M.C.Overalls
LIMITED EDITION
COLLABORATION
DW-5600MCO-1ER - UK ONLY - 300 PIECES - AVAILABLE NOW WHILE STOCKS LAST!
Based on the DW-5600, one of the original G-SHOCK styles created in the 1980's and arguably the most iconic and immediately recognised of all G-SHOCK silhouettes. Marrying each brands ethos to create a unique and bold design, the collaboration timepiece featuring M.C.Overalls printed strap and bespoke packaging.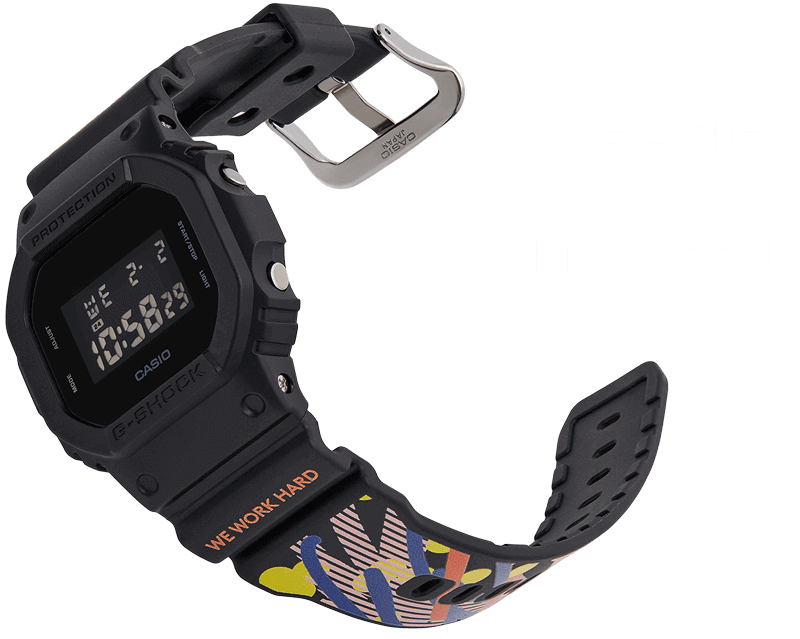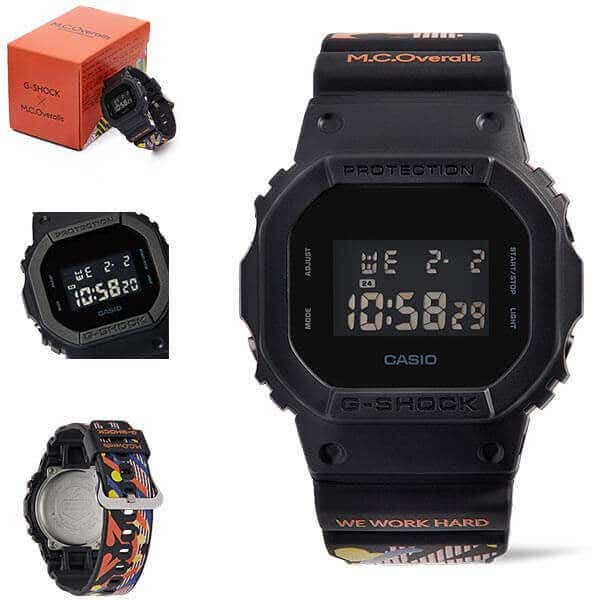 DW-5600MCO-1ER
G-SHOCK x M.C.OVERALLS
LIMITED EDITION
cOLLABORATION
Based on the iconic DW-5600
Featuring M.C.Overalls printed strap and bespoke packaging
A limited edition M.C.Overalls patch is included with every watch, and a limited edition
G-SHOCK x M.C.Overalls T-Shirt is exclusively available when purchasing the collaboration
at the G-SHOCK London Carnaby Street Store.
WORK HARD TO PUSH LIMITS
AND NEVER GIVE UP
M.C. Overalls is a British workwear brand dating back to 1908 with a rich & enduring history. The brand produce classic, hard-wearing, every day, gender-neutral staples and were re-stablished in 2016, staying true to its roots of endeavor, perseverance and creating durable products.
On the collaboration, they said "M.C.Overalls are honoured to partner with iconic watch brand G-SHOCK. Together, we have designed a piece that takes inspiration from the soul of the G-SHOCK brand along with our own heritage and brand DNA. Each aspect of the design is born out of our workwear roots, colour palette and spiritual home of Soho to bring a vibrancy & energy to this collaboration. We worked Hard"
Watch the film below to find out more.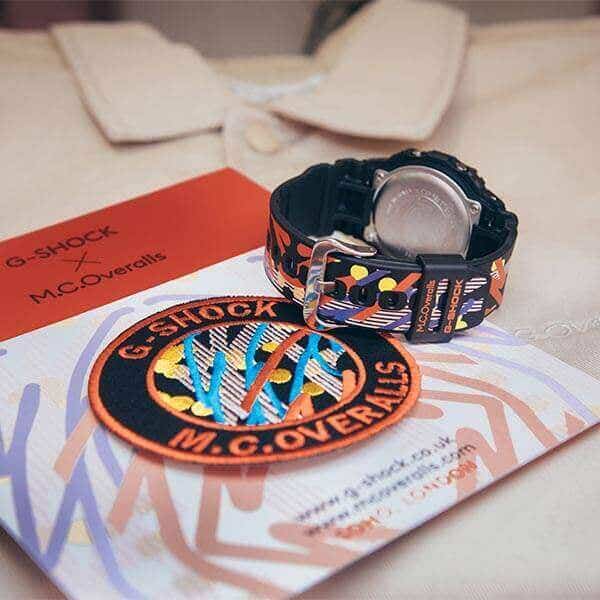 THE COLLABORATION IS AVAILABLE IN
THE UK ONLY WHILE STOCKS LAST
£119
The DW-5600MCO-1ER comprises of a resin band depicting a vibrant graphic design in bold primary colours red, blue & yellow on a black background. Reminiscent of M.C.Overalls experimentation with bright, spirited colours, the design incorporates both brands and unites the best of both worlds. Inspired by the power of the circle or 'Maru' in Japanese culture, the pattern is also an ode to M.C.Overalls original rivet from 1908. Delivering on all that a G-SHOCK promises, the timepiece is 200m water resistant and shock resistant. Hard glass resists scratching and patented Hollow Core Guard Structure protects against impact and vibration.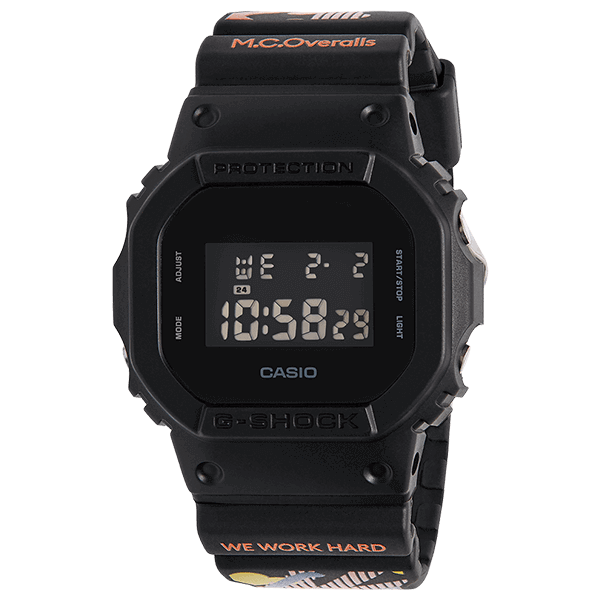 On the collaboration Casio remarked "G-SHOCK's indestructible watches along with
M.C.Overalls workwear heritage brings together a powerful message - a nod to all
those who Work Hard to push limits and Never Give Up."
TECHNICAL FEATURES
Tech Specifications
| Feature | Description |
| --- | --- |
| 12/24 Hour Format | Digital time display can be configured to either 12-Hour or 24 Hour Format |
| Water Resistant | 200 Metres Water Resistant |
| Accuracy | +/- 15 seconds per month |
| Alarm Function | Flash Alert: A light diode flashes as soon as an alarm, countdown-time or the hour signal has been reached., Multi Function Alarm |
| Auto Calendar | Once set, the automatic calendar always displays the correct date |
| Band Material | Resin |
| Battery Life | Approximately 2 years |
| Countdown Timer Function | Auto Repeat, Countdown Range: 24 hours, Measuring Unit: 1 second |
| Date and Weekday Display | The current date and week day are displayed on the watch face |
| Date Display | The current date is displayed on the watch face |
| Dimensions | 48.9 x 42.8 x 13.4mm |
| Display Illumination | Electro-luminescent: The digital display lights up the at the touch of a button., With afterglow |
| Mineral Glass | Hard glass resists scratching, Mineral Glass- Toughened and able to withstand most scratches |
| Shock Resistant | Patented Hollow Core Guard Structure protects against impact and vibration |
| Stopwatch Function | Measuring Capacity: 24 hours, Measuring Modes: Elapsed time, split time, 1st-2nd place times, Measuring Unit: 1/100 second (for the first 60 minutes) 1 second (after 60 minutes) |