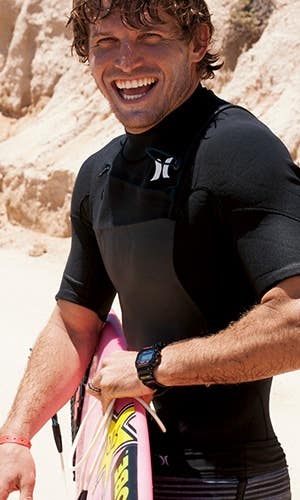 Biography
Nadhin Nicol
Born in Margaret River, Australia, in November 1985, Yadin Nicol currently resides in Santa Barbara, California. He is back in the surf now, competing to return to surfing's World Championship Tour, after several months spent recuperating from injuries suffered in summer 2011. Besides serving as a G-SHOCK ambassador, Yadin is supported by such sponsors as Hurley, Globe International, Smith Optics, Rockstar Energy Drink and Channel Island Surfboards.
"I use my current G-SHOCK every day, especially for its Tide Graph and Timer…
It's perfect for heats!"
- When and why did you start surfing?
My dad got me into surfing at about the age of 7. My family was always around the ocean. My mum would go fishing and my dad would surf with my older brother. I didn't want to be stuck on the beach with my two sisters, so I went into the ocean with my dad and brother.
- How would you describe your personality and riding style?
I'm fairly easygoing and can cruise just about anywhere, but I get antsy when I stray too far from the ocean. I get pretty loud and easily excited when I'm in the ocean, especially when I'm surfing with people who push me. I guess I'm pretty competitive in the ocean, kinda the opposite of me on land.
- What's special to you about being a G-SHOCK brand ambassador, especially with the 30th Anniversary coming up?
G-SHOCK has so much history and has done so many cool collaborations with such great companies and individuals, I'm just happy to be a part of something so unique that has stayed true to itself.
- What is G-SHOCK to you personally, and what part does it play in your daily life?
To me, G-SHOCK is quality, tough, rugged and unique. My first G-SHOCK was a Baby-G, because the men's watches were too big for me. It was actually my sister's but I poached it off her! I use my current G-SHOCK every day, especially for its Tide Graph and Timer… It's perfect for heats!
- G-SHOCK's design philosophy centers on the pursuit of "Absolute Toughness." What does this philosophy mean to you?
I'm around saltwater and sand every day, two things that will wear out just about any product. But my G-SHOCK will hold up for as long as the battery lasts.
- What are your goals for 2012 and beyond, and what challenges do you need to overcome to achieve them?
My main goal for 2012 is to qualify for the WCT again and get my bearings competing against the world's best. Things haven't been easy, but I'm confident and excited about this year. It's hard for a rookie to go up against the top guys, but with some hard work in and out of the water, I'm confident I can be on the WCT in 201