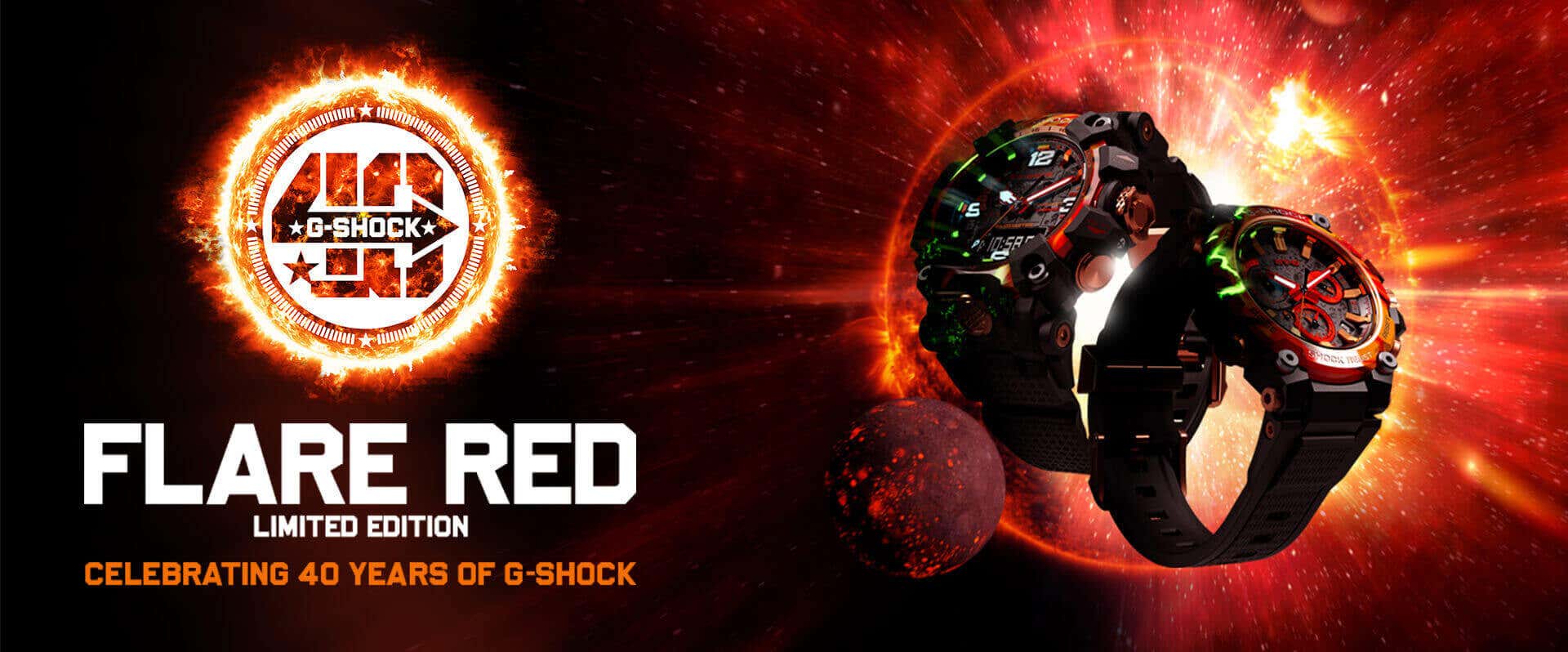 BORN FROM FIRE



THE STRIKING FLARE RED SERIES
Featuring the very latest in expertly engineered material development - G-SHOCK celebrates 40 years of innovation & unbeatable shock resistance with the bold FLARE RED series.
Each with its own unique finish & hidden luminous flares, this strictly limited one-off collection marks a cornerstone in history for one of the worlds most renowned watch brands.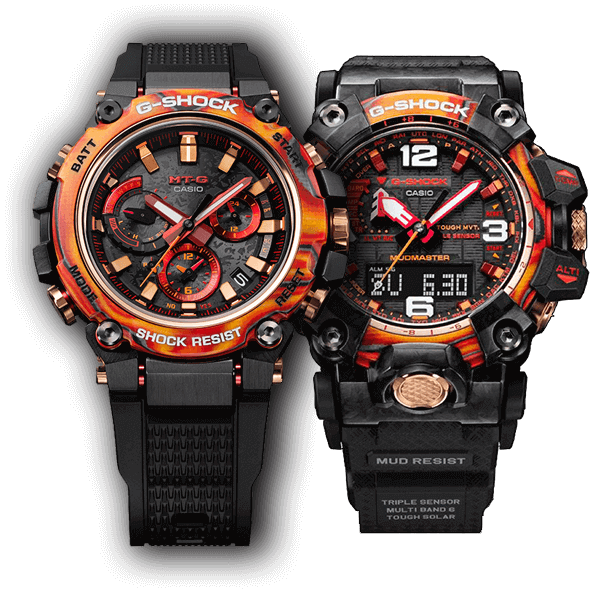 Charged by any light source, light sensitive luminous fibres are painstakingly woven into the lava inspired bezel of both timepieces - together with the forged carbon case of the Mudmaster.
Due to the nature & engineering of the materials, no two watches are the same, creating a unique finish - Hidden by day but visible by night.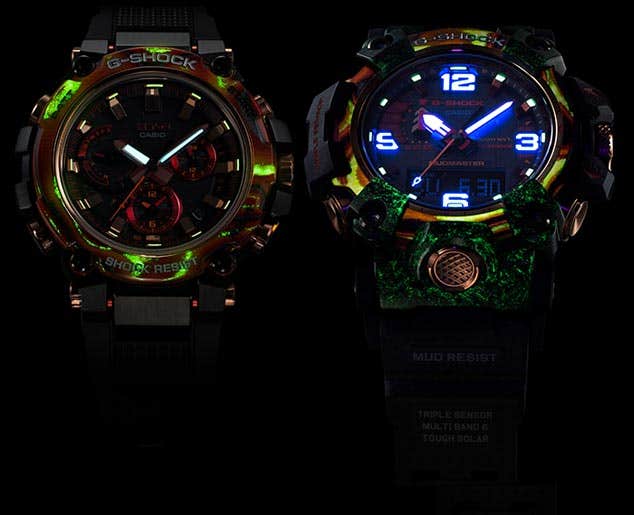 Featuring our newest high - density mounting technology, the MTG-B3000 is coupled with a newly refined Dual Core Guard carbon-fiber reinforced inner case.
Painstakingly hand assembled in Yamagata Japan with expert Sallaz-polishing.
Despite the timepiece's slimmed-down profile & luxury finish, the MTG-B3000 remains "Triple-G Resist" rated, thoroughly tested for resistance to shocks, vibrations, and centrifugal forces
Solar Powered
Internal Carbon Fibre core guard
Sapphire Crystal Glass
Built in LED Backlight
Bluetooth Wireless connectivity
Providing automatic time updates worldwide, phone finder, function customisation & more
Boasting a striking luminous lava-inspired upgrade, the Flare Red Mudmaster's design completely changes in the dark.
The watches case contains over half a million intertwined fibers - forged with new light sensitive fibres this showcases a mysterious hidden luminous finish when in low light.
Solar Powered
Radio controlled - Multiband 6 Atomic Timekeeping
Mud Resistant structure
Forged Carbon casing (luminous fibres will cause case as well as bezel to glow)
Sapphire Crystal glass
Built in LED Backlight
Compass, Altimeter, Barometer, Thermometer
CELEBRATING 40 YEARS OF G-SHOCK
The Flare Red series is the first line of premium timepieces marking 40 years since the inception of G-SHOCK.
Gloriously rendered with rose gold steel hardware, these watches feature refined shock proof buttons, bolts, screws, buckle & keepers in a contrasting gold tone - evoking this very special line of limited pieces.
Celebrating G-SHOCK's historic anniversary, these timepieces mark the occasion with the official 40th anniversary logo engraved on the steel caseback together with 'SINCE 1983' written on the watch's keeper.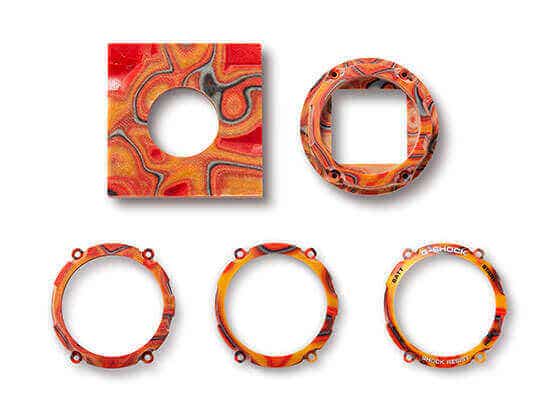 TA truly unique bezel has been created for the Flare Red series. Utilising Carbon and coloured glass fibres - no two bezels will look the same.
Forged with phosphorescent particles, the bezels of these exclusive timepieces take on a whole new look and feel when worn in low light areas.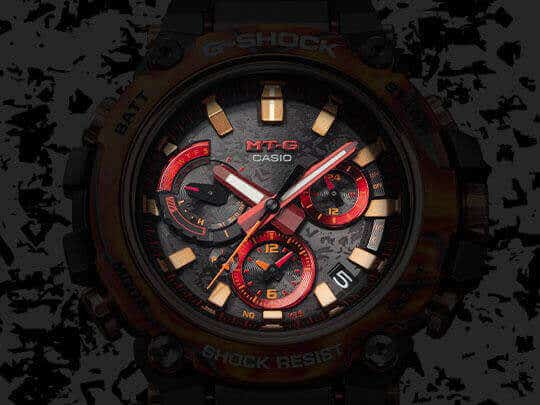 The Flare Red series is completely solar powered - powered by any light source.
Furthermore - the dial of the MTG-B3000 is exclusively equipped with a solar-flare inspired texture.
Evoking the space-like forces that have combined to create these unique pieces.

Connect your FLARE RED MTG
to the CASIO WATCHES APP
T- Watch status display:
Graphical display of solar power generation status and more.

- Self-check:
Automatic evaluation of watch functions' operational status. Displays a screen alert in the case of malfunction.

- Automatic time adjustment (four times a day)
- World time for over 300 cities
- Home time/world time switching
- Timer/alarm setting
- Phone finder


Tech Specifications
| Feature | Description |
| --- | --- |
| Water Resistant | 200 Metres Water Resistant |
| Accuracy | +/- 15 seconds per month |
| Alarm Function | 5 Daily Alarms: Each will sound every day at the time you set, Hourly time signal: The watch beeps every hour on the hour, Snooze function |
| Auto Calendar | Once set, the automatic calendar always displays the correct date |
| Band Material | Titanium |
| Battery Level Indicator | An indicator shows the current battery charge level |
| Battery Life | Approximately 10 months on full charge (without further exposure to light) |
| Bluetooth® Connectivity | Signal Range: Up to 2m (may differ depending on surrounding conditions), The watch can be wirelessly connected to a compatible smartphone or tablet via Bluetooth. The energy-saving technology enables access to a host of functions., The watch will automatically synchronise it's time when connected to a compatible smartphone |
| Countdown Timer Function | Countdown Range: 24 hours, Measuring Unit: 1 second |
| Customisable Date Format | YY/MM/DD - DD/MM/YY - MM-DD-YY |
| Date and Weekday Display | The current date and week day are displayed on the watch face |
| Date Display | The current date is displayed on the watch face |
| Dimensions | 49.3 x 43.2 x 13.0 mm |
| Display Illumination | Full Auto Light: In low light, the watch face will illuminate automatically when you tilt your wrist towards you, With afterglow, Selectable illumination duration (2.0 seconds or 4.0 seconds) |
| Low Temperature Resistant | -10 °C/ 14°F |
| Multi Language Display | Select from a number of different languages |
| Mute Function | The button tones on the mode button can be switched off for discreet operation. Pre-set alarm or timer functions remain active. |
| One Touch- Three Fold Clasp | Designed for a secure hold |
| Power Saving | After the Alert: The following operations are stopped to save power: all hand movement (excluding the day indicator), Bluetooth connection, if applicable, and alarms |
| Radio Controlled Timekeeping | Multi-Band 6: Automatic Atomic Time updates are received overnight for exceptional accuracy (UK/ EU/ USA/ Japan/ China: home city must be set manually) |
| Sapphire Crystal Glass | High-clarity glass with the highest level of scratch resistance., Non reflective coating. |
| Screw Lock Back | The screw connection on the base of the housing optimally protects the inner workings of the watch and simultaneously provides easy access, when changing the battery. |
| Shock Resistant | Patented Hollow Core Guard Structure protects against impact and vibration |
| Solar Power | A high-capacity solar-charging system harnesses the power of any light source for reliable watch operation with minimal impact to the environment. |
| Stopwatch Function | Measuring Capacity: 24 hours, Measuring Modes: Elapsed time, split time, 1st-2nd place times, Measuring Unit: 1/100 second (for the first 60 minutes) 1 second (after 60 minutes) |
| Weight (Gram) | 106 |
| Vibration Resistant | Resistant against vibration from heavy duty operations |
| World Time | CASIO WATCH+ World Time lets you select from among approximately 300 cities as the World Time City, Displays the current time in major cities and specific areas around the world |