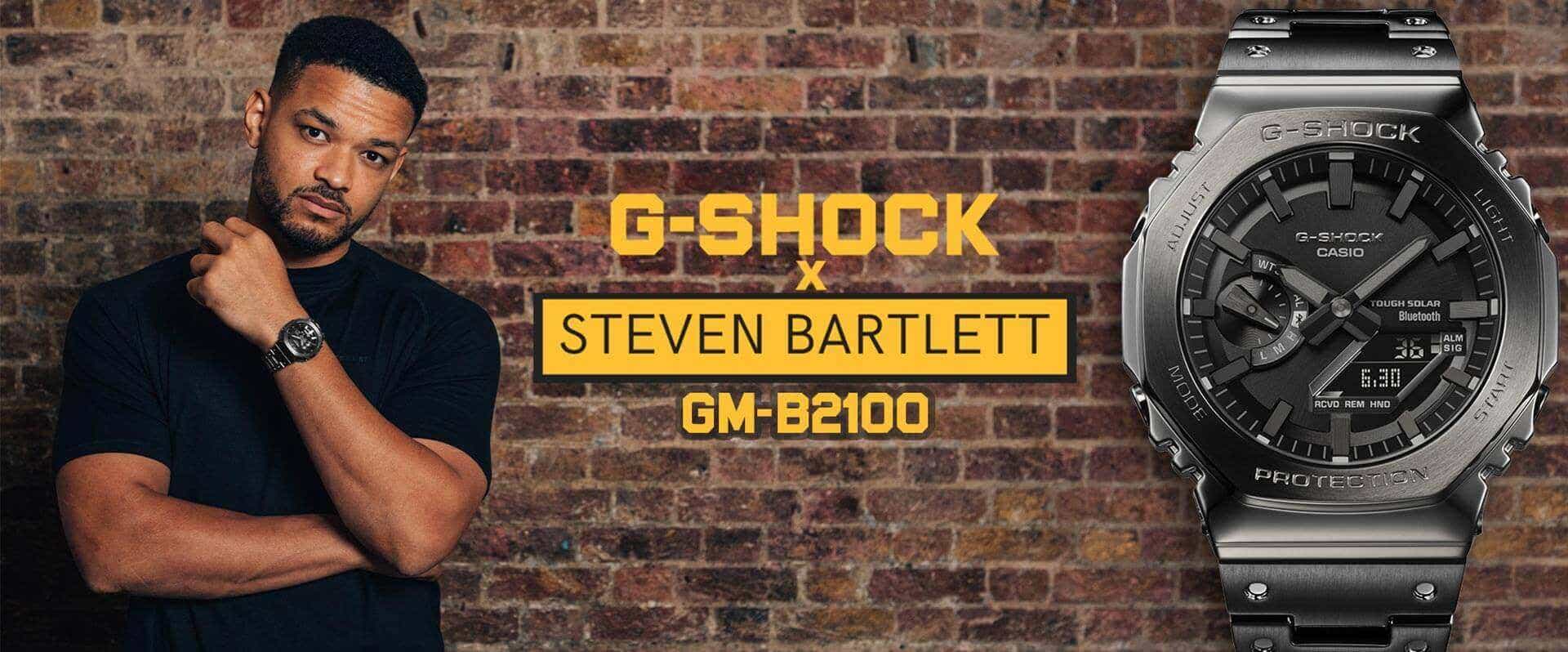 THE FULL METAL GM-B2100
ICONS EVOLVE.
A masterclass in iconic design & innovation,
the G-SHOCK 2100 represents a story of
continuous development and evolution in the
face of adversity and failure.
This year will see the 2100 evolve once more.
The full metal GM-B2100 - Coming Soon.
SIGN UP FOR LAUNCH UPDATES
Entrepreneur, Speaker, Investor, Author, BBC Dragon
and the host of one of Europe's biggest podcasts, 'The Diary of a CEO'
G-SHOCK Ambassador Steven Bartlett is the 29-year-old Founder of the social media marketing agency Social Chain. From a bedroom in Manchester, this university drop-out built what would become one of the world's most influential social media companies at just 21 years old, before taking his company public at age 27 with a current market value of over $600M. He is widely considered one of Europe's most talented and accomplished young entrepreneurs and philosophical thinkers.

With a Never Give Up Story of his very own, we explore what motivates & inspires Steven, his relationship with time & connection to G-SHOCK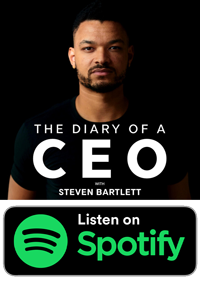 Expertly engineered, the new GM-B2100 boasts a fully shock resistant design despite its full metal structure.

Full integrated analogue digital time display is enhanced by a clean sophisticated solar powered dial.

Featuring unbeatable shock resistance & 200 metres water resistant the GM-B2100 highlights the design roots to its origins with an iconic octagonal bezel & G-Shock steel bracelet.

Built in daily alarms, timer, worldtime together with a LED backlight bring a functional timepiece suitable for every day, wherever you are.

The GM-B2100's iconic design is complimented with matte & satin polished steel case & bracelet.

An elegantly finished timpiece, Built to last.
Connect your GM-B2100 to the new CASIO WATCHES free mobile app available on the Apple App & Google Play store.
Instantly syncronise your watch to the date & time on your phone.
Automatic time updates worldwide as you travel
Built in Phone Finder
Set & customise daily alarms, timers & time-zones
The new GM-B2100 is completely solar powered. Powered by any light source, your watch will charge under artificial and natural light.
This sustainable source of power will keep your watch ticking day and night - as little as 8 minutes of light provides a day's worth of power.
No battery changes and a power reserve that lasts for months equals total peace of mind!
SIGN UP FOR EXCLUSiVE
LAUNCH UPDATES
AN ICON -

ALMOST 40 YEARS IN THE MAKING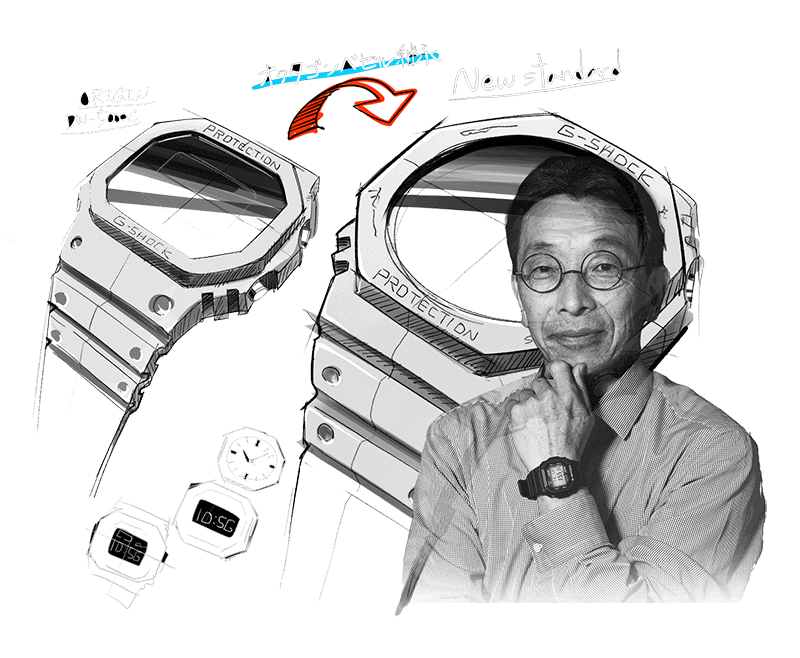 The first digital G-SHOCK DW-5000 was realised in 1983 and was born from Kikuo Ibe's quest to create the toughest digital watch imaginable, and one, which was lightweight and efficient. Decades of shock resistance & materials research allowed the tank like 5600 to be developed into a full metal model in 2018. Celebrating its origins & the latest technology in a fully shock proof design.

In 2019, G-SHOCK set out once more to create the ultimate in toughness and clean aesthetics, whilst combining both analogue and digital functionality – The GA-2100 was born. The slimmest G-Shock ever made, taking the internet by storm and becoming an instant design classic.

For the next 3 years - G-SHOCK set to continuously evolve & enhance the 2100 - with the introduction of solar power & Bluetooth technology. The watches slim design posed unique challenges - improving the timepiece whilst maintaining its original design & profile.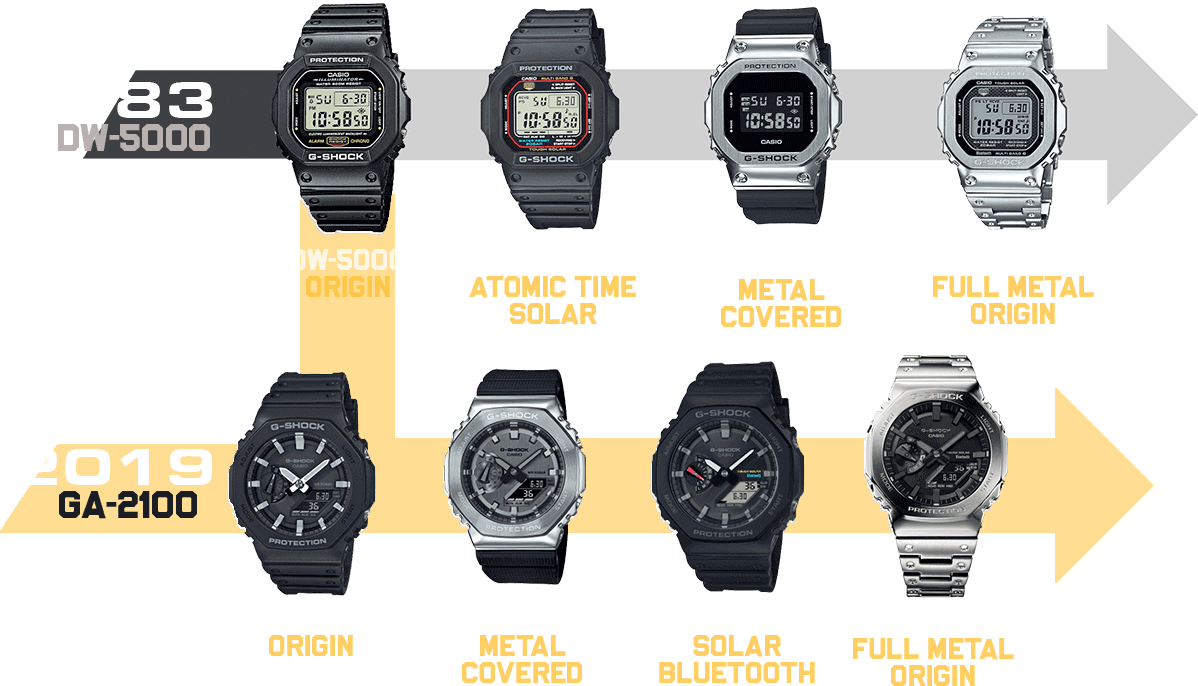 This year, the full metal 2100 is finally here. The result of painstaking research & development, creating a timepiece with analogue, digital display, celebrating its iconic origins, almost 40 years in the making. Discover more about G-SHOCKs shock resistant design, history & the iconic 2100 origins below

SIGN UP FOR EXCLUSiVE LAUNCH UPDATES