Steel, carbon fibre & a multi-layer guard structure combine to create the stylish G-STEEL collection.
Don't be fooled by the sleek appearance, behind handsome exteriors lies the renowned G-SHOCK DNA.
Smart enough for the office, tough enough for the expedition.
Wherever life takes you, your G-STEEL can take it.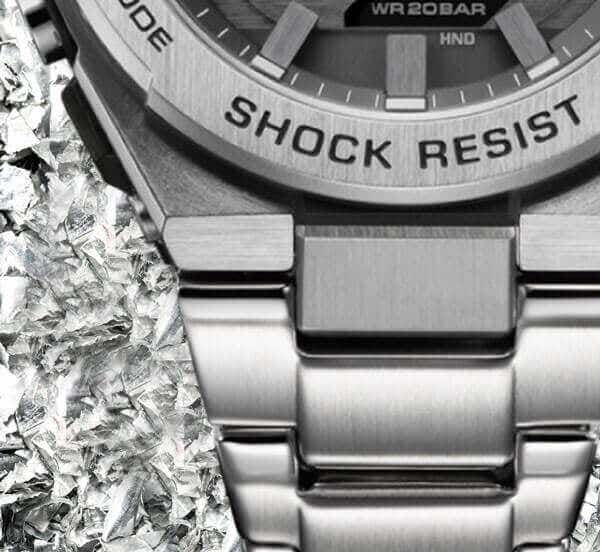 Sleek and polished, but infamously hard-wearing, stainless steel provides a protective and reliable casing, with a timeless sleek finish.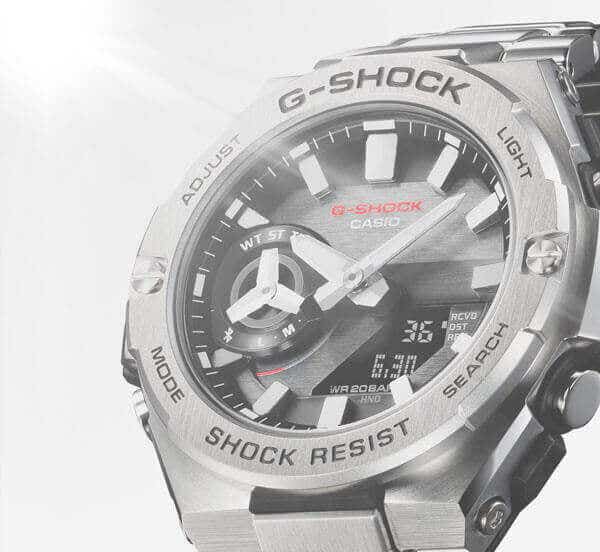 Powered by any light source.
The watches solar panel dial converts even weak illumination from fluorescent lighting into electric power. Battery changes are a thing of the past..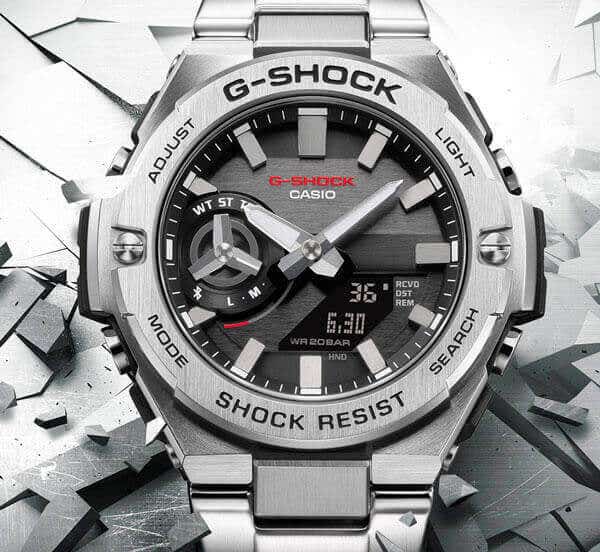 Shock-resistant construction protects against impact and vibrations. This technology has been passed down to every G-SHOCK model for well over a quarter-century.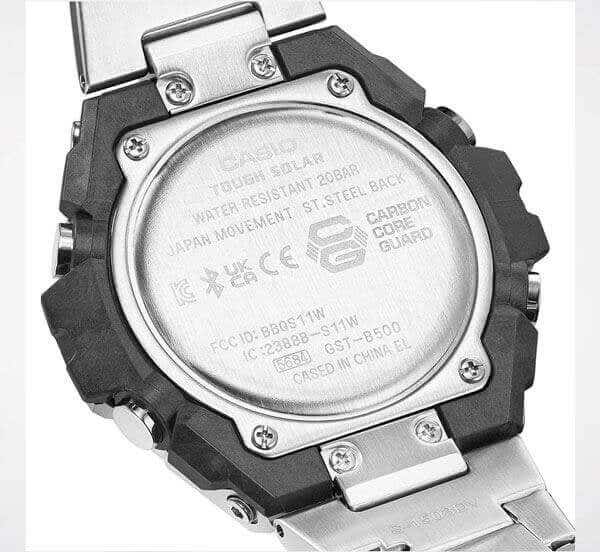 The G-Steel collection now features G-SHOCKs new Carbon Core Guard technology. Integrating carbon fibre into the multi-layered guard structure of the timepiece. This results in a watch that is stronger but lighter – allowing our engineers to slim down designs whilst increasing the strength & impact resistance for years to come.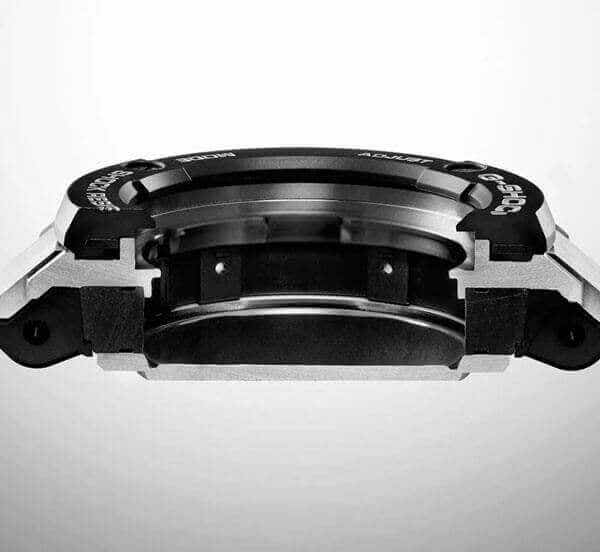 The G-Steel's layered guard structure boasts a double-layer bezel construction of stainless steel and resin & carbon fibre which delivers the hard, sleek beauty of metal while retaining the impact absorption you expect from G-SHOCK.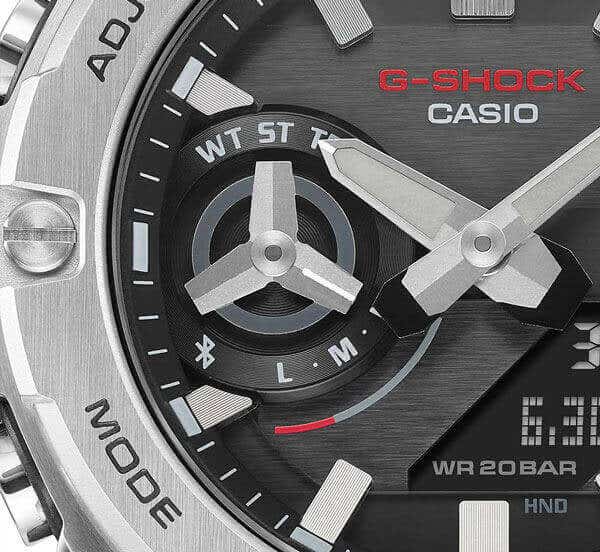 An indicator inspired by jet engine blades is mounted at 9 o'clock. This serves to indicate the remaining time on the timer and as a mode navigator – rotating to each mode when selected from world time, stopwatch, timer & more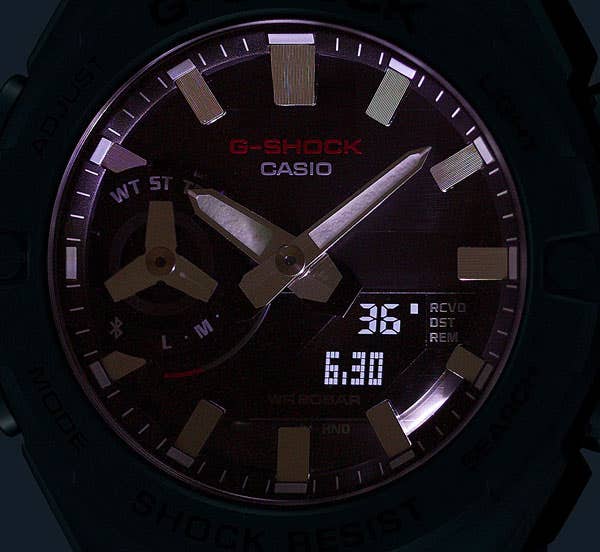 DOUBLE LED LIGHTS

Two white LED lights cast brilliant illumination on the hands and LCD. Their use in combination with phosphorescent coating ensures excellent legibility in the dark.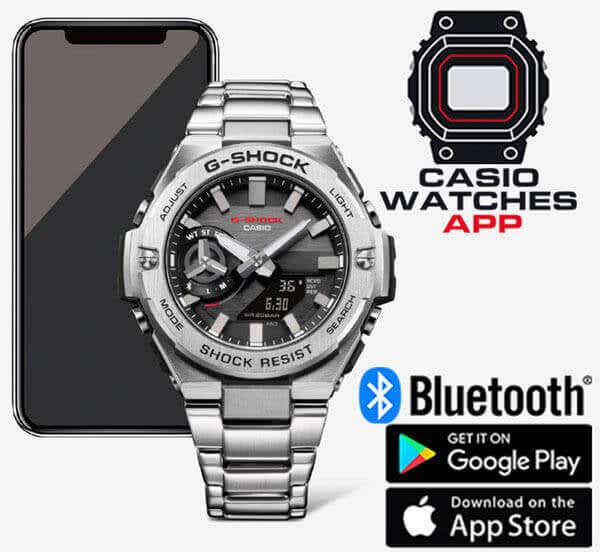 Connect your G-Steel watch to the CASIO WATCHES free mobile app. Once connected your watch will automatically check the time upto 4 times a day.
This provides automatic tine updates worldwide as you travel, together with a whole toolbox of features from controlling your watch wirelessly, customising features as well as a built in phone finder


In 1983, CASIO engineer Kikuo Ibe won the battle against the laws of nature. He designed a watch that
would resist centrifugal and impact forces, as well as high water pressure. It took over 200 prototypes,
over a period of two years until he finally arrived at his iconic watch design.
Since then, G-SHOCK has mastered 'absolute toughness' through its rigorous testing and use of the most
durable materials. The 'Master of Metal' collection brings together our range of unique metal watches,
which are both tough and beautiful.